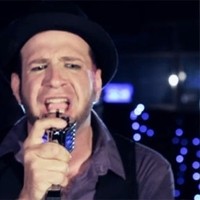 This band sounds like it comes straight from the eighties. That's not a bad thing. Actually what comes to mind is Duran Duran but more modern and with a bit more edge. Hailing from Baltimore Maryland they started in 2008. Though they haven't been around for that long, they have a distinctly polished sound. They consist of three members:
The song "With or Without You" is a remake of U2's 1987 hit. I think they did an excellent job. They kept the general hooks and magic intact, while bringing a more electronic vibe to work. The song "Control" has a really cool synthesizer sound and a great dance beat. They change gears for the song "End of Us." It still has an excellent dance beat but also has more of a rock sound. "Forever" actually sounds a bit like U2, but with the general blend of sounds present on the rest of the set also in place. This song is a little slower but still danceable. The song "Sudden Victory" showcases Ric's vocal range. Another track "The Escape" seems to have a little darker side to it. It doesn't have quite the same dance beat as some of the other songs but it's still very good.  
"Sudden Victory" is the third music video from The Perfects to top the charts at MTV in 2012 as the #1 most popular/most shared music video. These songs can seriously make you want to move! This is definitely a band worth checking out.   With such charting success and such good music, this band is sure to go far. It would be a shame to be caught at the end of the curve, so check them out before they become huge. That way you can say, "I was listening to those guys before everyone knew about them." Besides, that's just more time to enjoy their sound. While certain songs standout, the whole set really pleases. It manages to create a sound that seems to flow through the whole disc, but still doesn't feel like it's all the same. The mix of sounds is sure to please a wide range of listeners.
Rating: 4.5 out of 5
Review Comments: jannezawa@gmail.com
Reverbnation: http://www.reverbnation.com/theperfects
by Diane Hill Edited by Janne Zawa