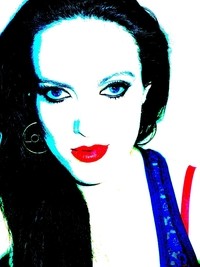 Why not ring in the New Year with the Angel Warrior herself L'illon!   The diva is back after releasing her debut album 'Warrior Angel' back in 2009 which I had the pleasure of reviewing for Skope (http://www.skopemag.com/2009/12/08/l%E2%80%99illon-warrior-angel).   I knew then that this music artist had that special something or IT factor if you will.   With her new single "I'm In Love" you will find the D.C.-based singer/songwriter reinventing herself once again.   I mean come on this is the same woman that coined the phrase "Lucid Pop", which is her very own genre made up of elements of Pop, Classical and World!   I referred to it all as "Vibilicious Pop" and L'illon continues to put a fresh 'n' sexy spin on things.
[youtube dWmGCw1wgTc]
"I'm In Love" was actually released on the 4th of July and has since been awarded the Platinum Audionaut Award (Auddy) by uPlaya's Hit Song Science, which examines a song's hit potential.   It's no surprise to me that the track is receiving such success because L'illon is full of talent, spunk & surprises.   The song itself is flavorful to say the least with a dance party explosion-type feel goin' on and a lil POP for good measure.   HOT beats meets HOT singing with L'illon really coming into her own.   I picked up on a fun, playful & seductive tone to L'illon's voice, which shines through on "I'm In Love".   The song sizzles without question as L'illon delivers an impactful performance.   The listener will really feel the words that come out of L'illon's mouth because she is more than believable; she is convincing.   With the holidays now behind us I can't help but look back to a classic line from the movie "Elf", one of my favorite Christmas movies, where the hysterical Will Ferrell says, "I'm in love, I'm in love and I don't care who knows it".   I sense that this is the same feeling for the multi-talented L'illon with her new single as 2013 looks to be a great year for the "Lucid Pop" queen!   May the legend of the 'Warrior Angel' OR Angel Warrior live on forever!
You can purchase the sultry single exclusively on iTunes (https://itunes.apple.com/us/album/im-in-love-single/id542451603) OR on Nimbit (http://www.nimbitmusic.com/lillon) and the best part is that the track is only 99 cents!   Get yours now and prepare yourselves for a L'illon musical revolution!   Readers can also
check out three other articles on the one-and-only L'illon right here:
http://www.skopemag.com/2010/02/02/jimmy-rae-talks-with-diva-on-the-rise-lillon-the-warrior-angel
http://www.skopemag.com/2010/07/08/lillon-releases-new-video-for-love-story
http://www.skopemag.com/2011/06/09/lillon-warrior-angel-instrumental-special-release.
And don't forget to SKOPE out www.lillon.com for more exciting info on the Vibilicious, Angelic Warrior.
Rating: 4/5
Happy New Year!
By Jimmy Rae – jrae2@att.net