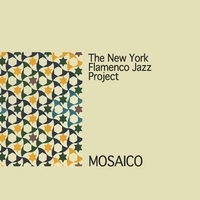 Andreas Arnold is a professional guitarist that hails from New York. Arnold is one of those artists whose been punching all the right tickets during his musical career which spans over 20+ years and several albums to his credit. This latest collective led by guitarist/composer Andreas Arnold will present its new album 'Mosaico'. Recorded over the course of a year between New York and Spain, it features 15 musicians from around the world. The albums material will be performed by a sextet of flamenco and jazz musicians featuring guitar, vocals, flute, harmonica, percussion and dance. Since Miles Davis there have been plenty of efforts of jazz musicians to add a flamenco vibe to their music just as contemporary flamenco became more and more jazz influenced since Paco de Lucia pushed the doors wide open in the 1970s. The New York Flamenco Jazz Project stands by itself: it is a true meeting of flamenco and jazz artists joining up and creating a common ground on which they showcase their creativity, virtuosity and ability to communicate outside their domain while staying true to their roots. Band members include: Andreas Arnold – flamenco guitar, Jose Moreno – percussion, vocals, dance, Petros Klampanis — bass, Maria Toro — flute, Yvonnik Prene — harmonica and Philippe Lemm – percussion
Andreas Arnold (guitarist) – http://www.andreasarnold.info/
The making of MOSAICO video – http://www.youtube.com/watch?v=oRu-Aju2gG4
"Mosaico" has much to commend it. Admittedly, there is a whole lot of variety to these breathtaking arrangements and performances. First: Arnold and his impressive band delivers rock solid playing like a well oiled machine. This is testament to hundreds of hours of rehearsal time no doubt. Second: Arnold's is off the charts with an infectious persona and Top Tired Flamenco playing style that hits the mark remarkably well. He has all the attributes required of an effective Flamenco/Jazz musician and songwriter. Third: his sound and amazing songwriting touch are as good as they get. I've heard it said real Jazz is like a gateway to an artists soul. This is mainly because unlike many other forms of music there are no limits or boundaries with respect to the expression. True to firm: all songs are brilliant combination of modern Jazz yet with an undeniable Spanish Flamenco aftertaste that will remind you of Miles Davis, Paco de Lucia and Vincente Amigo. Arnold clearly has all the gifted creativity and songwriting prowess to be extremely dangerous, and not every square inch of this production is filled with musicianship delivered under duress. It provides musical atmosphere that allows the music to breathe entirely on its own. This is a byproduct of being true to one self artistically. There is also an undercurrent of passion and artful joy that cannot be faked here. The rhythm section does a good job pushing the natural accents well and all pieces deliver the A-typical Jazz standard musicianship you would expect. Equally as impressive is how marketable this 11 song catalogue truly is. It covers so much ground and despite this manages to not spread itself to thin across to many lines — nice touch.
My favorite pieces are: Josemi (Rumba) "You and Minou (Tangos)", "Harri Son", and "Colores Del Mosaico."
I've always said if you can play it a party or a festive gathering, then it's a marketable record. This music is extremely marketable in that respect – with a fresh sound and a passionate vibe very much like Arnold himself. Mosaico covers much ground as it appeals to both the advanced and novice listeners alike. In close: let me go on record by sating Andreas Arnold is one of the best Traditional Flamenco guitarists I've ever heard. His latest release "Mosaico" has no weaknesses that I can hear and Andreas Arnold is one of those artists worthy of praise, recognition and fame at the international level and beyond.
Purchase Link – http://www.cdbaby.com/cd/thenyflamencojazzproject
Review Comments are welcome – heathresavage5@gmail.com or rhodesm@wavecable.com
By Heather Savage edited by Cyrus Rhodes
Rating 10/10 Stars