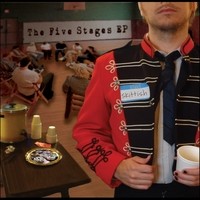 About the Artist: I love this description on the URL: "Band bio's are insulting to write, and more insulting to the reader. 'Gut busting rhythm sections' and 'confessional, straight-from-diary lyrics' would mean more if the phrases weren't seen in every band biography. But alas, here we go: I'm Jeff Noller. I am the band Skittish. I write folk-rock songs. Sometimes they get rough, sometimes they get weird, at all times they contain my full spirit. Skittish is Minnesota born and bred, with every song recorded in my hand-built lean-to of a studio located in St Paul. I gather musicians and friends for touring and live shows, but most of my time is spent working up the courage and finances to eventually disappear into the north woods. This is my 4th record, and after flying damn close to the sun, a dismal calamity melted those wings into "The Five Stages EP."
Official URL: http://iamskittish.com/
Review: I have to say I was extremely impressed with the opening 3 tracks "Running Lights" representing denial, "Built to Break" representing anger and "The Fixer" representing bargaining.       All 3 songs made quite the first impression on me as each one possessed my full unadulterated attention. To be honest: I expected cheesy Indy Rock that was extremely predictable and shallow in nature — very compatible for a mass audience. Well shame on me because what I discovered was actually quite the opposite. The whole EP is wonderfully conservative yet full of what I would call powerful melodic energy with music that appeals to so many different senses on so many different levels. It reminds me of Toadies, Wallflowers on steroids, with brief splashes of Weezer, Good Charlotte and even Death Cab for Cutie. I can also hear the slight Alternative Rock, Hard Rock influence in there as well like The White Stripes .What I really like about Noller is there is no attempt to sugar coat the truth or deliver what I call over the top alt rock. Cheezy music with a handsome face via top flight sampling, cookie cutter songwriting via a mix that sounds more like a commercial than a piece of music.   Weather it's musically, lyrically, inspirationally, emotionally, spiritually — The Five Stages EP keeps it real and covers it all.    
Favorite Track: The World Needs Bartenders (Acceptance)
Criticism: None
Conclusion: Skittish (feat. Jeff Noller) will affirm your faith in Alt-Pop again. Skittish is unique, hard working rock act that knows his way around a dive bar, a catchy song and a concert stage.   He represents all that is good in music and his latest EP "The Five Stage EP" delivers a highly passionate, fully loaded catalog of music via rock solid musicianship, entertaining songs and music that covers all the bases: Alternative Rock, Punk and Indy Rock.
Final Rating:   5 Star Rating Average — This CD gets 4 Stars
Written by Michael Keith edited by Markus Druery
Review comments to: marktheshark972@gmail.com