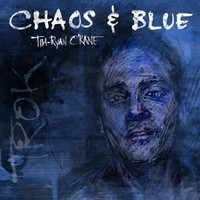 This is the latest release from Tim Ryan O'Kane entitled Chaos & Blue (2012). O'Kane hails from Brooklyn New York and on this 4 song EP he wrote all the music and even plays piano and signs.
"Chaos and Blue" 4 song EP is O'Kane's latest release and the result though far from a self-indulgent ego trip, rather a moving and elegiac artistic statement from start to finish. This is not your overly predictable Ramon Noodle "Sing-Songy" Nikelback-esque artist. Instead O'Kane   could even be classed as a 3 genera artist: Alternative Rock, Rock and Singer/Songwriter.   You will notice Pop Rock in nowhere listed above. This is because O'Kane has way too much precision and clarity to live in the shadows of overly-predictable Indie Pop Rock. Indeed this is clearly evident in songs like "Marmalade" and "Beautiful Bird" which methodically ups the ante to a very respectable level of catchy musical craftsmanship and addictive melodies that transcends typical pigeonholing. What's more the music even manages to be commercially viable with a highly original sound and jagged edge that holds the attentions span of the listener perfectly. In a nutshell this is Smashing Pumpkins meets Jimmy Chamberlain Complex. I can also hear a sight similarity to more earthy version of Trent Reznor as well. This 4 song line-up appeals to many listeners with a wide variety of musical styles — but it packs a powerful punch with a passionate voice for all the rockers out there who want something more than Nikelback, Daughtry or Lifeshouse.
The songs that stuck with me the most were: The Sum of it All, All Things Change  
Other Tim Ryan O'Kane Links:
FACEBOOK: https://www.facebook.com/timryanokanemusic
TWITTER: https://twitter.com/timryanokane
YOU TUBE: http://www.youtube.com/timryanokane
I would imagine in time we will hear more from this amazing artist via a Full Length release in 2013. No doubt Tim Ryan O'Kane has carved a marketable niche for himself thus far in his musical career thus setting himself up for further marketable success down the road. At the end of the day he's doing all the right things. Time will tell but for now I can honestly say this is one artist that clearly gives you a musical snapshot that is highly original, unique and dare I say dangerously melodic in scope.
URL: http://www.timryanokane.com/
Overall Rating: 5/5
Review Comments: marktheshark972@gmail.com
By Michael Rand edited by Markus Druery