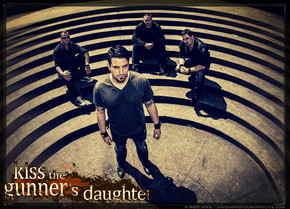 KTGD is the sort of band that could fit in with today's sultans of Modern Rock such as Avenged Sevenfold, Slipknot, Linkin Park and Three Day's Grace. However, these guys are from Seattle, home of the Great Grunge bands of the late 80's and early 90's like SoundGarden, Nirvana and Alice In Chains. Mix it all together, add a sprinkle of Messhugah-style machine gun riffs and you get the idea of Kiss The Gunner's Daughter. Skope got the chance to interview KTGD and here's how it went down…
DiGDuGDisaster: First off, the name, Kiss The Gunner's Daughter… sounds like there's a story there?
KTDG: . I guess there is a story there, and I wish it was a real crazy cool one… For anybody who has faced the difficult challenge of finding a perfect name for your product, you know exactly what we went through to find a name for our band. We wanted something that stood out, and really could sum up what we felt our music is all about. To us, our music is pretty heavy with a kiss of beauty to it.
(Nick, bass player) I kinda took it upon myself one night, and started Google searching a bunch of band name ideas we had. I was amazed that every name I could think of had been taken and currently in use. I even started getting desperate, combining ridiculous words to make a name, and sure as shit all those names were taken too. I took a new angle of my search and used jumped on Wikipedia. I was checking out all sorts of stuff. I ended up on Piracy (Pirates), and read a bunch on it. Being that I'm a huge history buff, I was completely sucked in. I was bouncing from one site to another until I started reading about how pirate ships were run. When I was reading about types of punishment, "Kiss the Gunners Daughter" stuck out to me. Kissing the gunners daughter was a type of punishment which meant a person had to lay over the cannon and take their lashings. To me it was a perfect name for what our music sounded like to me… A romantic beat down! Thank god everybody else in the band felt the same way…
 
DiGDuGDisaster: What's the hard rock scene like in Seattle these days, over 20 years since the birth of Grunge?
KTDG: The rock scene in the Seattle area is a very close knit group, and seems like everybody knows everybody. There are some great places to play here in Seattle area like the Louie G's, Showbox, Neumos, Studio 7, and El Corazon. I wish I could say live music was the king of the hill around here, but it is sad to say the DJ and his electronic devil box has slowly taken over the venues. Thankfully some of the venues still stay true to music roots..   If it wasn't for them we wouldn't be able to do this.
[youtube 6GXK8qc5cZo]
There are some great bands in the northwest, and are very determined to put this lil corner of the world back in the spot light. The nice thing with today's technology, we are able to reach music fans across the globe with the click of the mouse. Kiss the Gunners Daughter is trying to be a little more creative with using the internet. I guess we look at it as touring via the internet… Building a following and getting in peoples head through releasing singles and music videos on Youtube. So far it has shown to have a pretty good return on our investment.
DiGDuGDisaster: One of your songs,"Praying For A Miracle" sounds like a cross between "Vulgar Display of Power" Pantera riffs with a killer Alice In Chains mid section. Are they influences at all?
KTDG: I think the song you're thinking of is "Make it through." It is a really hooky song for sure…   The song itself was actually written when we were jamming with one of Temperedcast guitar players, Kris Tonnessen. At a rehearsal, Kris brought in a song idea that spawned this song. For anybody that doesn't know the story; drummer Kelly Murphy, guitar player Josh Perry, and bass player Nick Sundesten were all in Temperedcast together with Kris. The writing process was very comfortable and was like riding a bike.
As for influences, we have so many… Every guy in this band is into different types of music and bands. Sean is into bands like Tool, Deftones, Chevelle and Mudvayne. Kelly loves Sevendust, and Pantera. Josh is into everything from Alice in chains to Metallica as well as being a closet hair metal fan (Cinderella anyone). I (Nick) am a huge fan of Red, Bullet For My Valentine, and In This Moment. We are all glued together by our shared love for Killswitch Engage. I think our many influences show in our songs. We each have our hands in the pot when it comes to the writing process so we never know what direction the song is gonna go when we start in on a riff or idea.
DiGDuGDisaster: You have a new e.p./video coming out, what's it titled and how do we get a copy?
KTDG: Yes we do! We are very excited to get our new EP and Video out to the world. To get your cd and video it's gonna take a few things.. We are gonna need a football helmet full of cottage cheese, a deep fried Twinkie, a fully articulating body monster truck, a picture of 2 pierced nipples and a xylophone, and large tube of Red Vines… J/K! You can check out our video for our first single, "Still Here" on YouTube, and the EP will be available through all the normal distribution channels shortly.   We went mainly digital with this record, but have a few limited hard copies that can be purchased through the band..   Find us via FB or our website and we'll hook ya up!
DiGDuGDisaster: The production is huge! Who is your producer?
KTDG: Once we were ready for recording and made the difficult decision on what songs we would record we started kicking around some names of some producers that we felt could pull off what we wanted. We kept coming back to the same person, Brent DeRocher. The majority of the guys already had tons of studio time with Brent when they were in the band Temperedcast. Sean quickly clicked with Brent when we hit the studio. Continually bouncing ideas off each other, pulling late nights, and pushing themselves to get everything out of each other. (Nick) It was probably the most positive and fun experiences in the studio I have had in such a long time.
It is actually kinda cool that Brent DeRocher has a resume that has its rock side, but it is filled with R&B, rap, and gospel. Brent comes into a project without bias, and no pre-notions of what a style of music should sound like. Oh BTW, he has a great ear for heavy guitars which is very hard to find. Brent is definitely apart of the KTGD family
DiGDuGDisaster: Rock music has taken a turn the last few years, with bands like Korn getting into dubstep and doing more remixes than actual songs. Do you see yourselves heading in that direction or do you consider yourselves purists?
KTDG: Yes, music has changed over the last 10 years, but the beautiful thing is that it has been evolving since the first note was played. Whether or not it is for the good or bad, we really can't tell until years later. Hind sight is always 20/20! I'm sure sure dudes from Motley Crue or Poison were never even thinking about adapting to grunge. However, I do believe if you do stick to your guns, but are open minded about listening to all music and giving things a chance, your music can naturally grow with what is popular. Bands like Sevendust and Nonpoint would be good examples of that to me. They have had great careers that have produced music that adapted to the type of rock that was going on at the time, and stayed true to their fans. I personally believe that if you are no longer growing as a writer, and no longer writing things that are new, you are officially on the way down.
DiGDuGDisaster: How important are melodies to KTGD?
KTDG: Melodies are very important to us all. Sean is very driven, and is the hardest working singer I have ever been around. His songs are like his babies… He nurtures each one. However, like I said we all have our hands in on each part of the writing process. We probably drive Sean nuts at times! Sean, 98% of the time, lays the first ideas down on protools, and from there we start expanding, fine tuning, and making any changes to the melodies. One of the great things we have with this band is that each member has some singing skills. Don't get me wrong, I said SOME singing skills, not lead singing skills. We each help with harmonies, screams and backing vocals. It makes Sean's life easier when it comes to laying down layers of vocals. Both Josh and I (Nick) sang on the EP. Making Sean's vision of how he wanted the vocals to come to life was much easier when we had that in our back pocket.
DiGDuGDisaster: Do you have a writing process? How do you come together to create your songs?
KTDG: Sean and Kelly are our biggest writers in KTGD. It usually starts as easy as one of them coming in with 1 or 2 riffs. From there we are off to the races and banging the song out.   Believe it or not, we are a democracy in this band, so majority rules. We usually write in the rehearsal studio. We work through every phase of the song, each person inputting ideas. I do admit, some songs don't develop into great songs, but if you are able to continually write, the good songs always rise to the top. Our motto from the beginning was to only release songs that we thought could stand on their own.   So far I think we've accomplished that on this EP
DiGDuGDisaster: Who are the members   of KTGD and what instrument[s] do they play?
KTDG: The members of Kiss the Gunners Daughter consist of 4 main guys. Sean Ingalls on lead vocals, Kelly Murphy on drums, Josh Perry on Guitars, and Nick Sundesten on Bass. As of recent we have added another guitarist in Aaron Balsley. For a while we had been having Aaron Balsley and Kris Tonnessen sharing the duty of guest appearing in live shows and in the studio. They both had outside reasons why they couldn't fully commit, but we were blessed with having 2 great guitarists that could step in when the other couldn't, and fatten up our sound live.
DiGDuGDisaster: Any touring plans for this e.p.? Have you ever performed outside of Seattle?
KTDG: We have played outside Seattle, but are keeping it as weekend warrior trips as of now. We are taking some of the things that worked for us in previous projects and putting them to work. We've started with building a regional following as of now. Our boarders will grow as our fan base grows… KTGD definitely will be doing some touring when the time is right. However, if the right opportunity/ situation were to arise, we would start touring tomorrow.
 
DiGDuGDisaster: What's the most important thing you'd like people to know about Kiss The Gunner's Daughter?
KTDG: LIVE LIFE! We have each faced down life's challenges, and witnessed the crazy world we live in. Because of this, we speak our minds through our music, and which allows us to identify with all fans.
Most of all, keep supporting music! We hope that we can be lucky enough to rock a stage near you ASAP! Until then, help spread the word about Kiss the Gunners Daughter, we can't thank you all enough for your support… Keep rocking!
Kiss The Gunner's Daughter can be found @ http://ktgdmusic.com. Be sure to get your rock fix.
Douglas Garnett – douglas.garnett@gmail.com