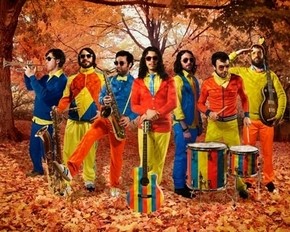 It's an intergalactic joy ride that Philly-based radio station WXPN, a world-renowned tastemaker, says "feels like something out of Hair, (the ground-breaking rock musical from the 60s), with definite notes of 13th Floor Elevators and The Who."
AUDIO "My Demise" MP3:
http://bit.ly/SouthworkMyDemise
Available December 11 on CD, as a digital download and on limited-edition blue vinyl on their very own Writtenhouse Records (a nod to Rittenhouse Square in downtown Philly), the band is currently taking pre-orders for ARISE at http://www.southwork.net/store.html.
Additionally, they are providing an early taste test with the recent music video premiere of the first single "My Demise," which fans can download for free at http://bit.ly/SouthworkMyDemise.
[youtube Wn8Er8vYA1A]
Aside from ARISE, Southwork are also promoting the use of their music in the full-length feature film Alpha Girls, which was co-directed by band saxophonist Tony Trov and his South Fellini film and graphic novel production studio partner Johnny Zito, best known for his serialized comic Moon Girl.