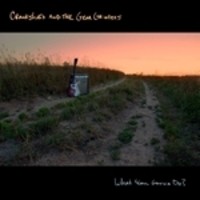 Though rooted in "ago" artists the likes of Carl Perkins and Sam Philips; Rockabilly is still alive, well and significant. And within the 12-tracks of the new Crankshaft and the Gear Grinders album, What You Gonna Do?, it also happens to be contemporary. Though the LP may contain some of the same hard luck scenarios and messages of its predecessors, the tracks have been cast in the here and now and spiked with messages that speak to the everyman.
[youtube VjpSufCEM_w]
The album opens to the high energy "When the Sun Goes Down" with string-busting jangle fuzz lead and frontman, Alex Larson's slight Country-tinged vocal delivery. Touted as a track "about the way a person's meddle is tested under tough circumstances, like the current economy" this honky stomp of a track is spiced with slight Surf Rock guitar in the interim between verses and addresses the album title with a series questions that literally asks the listener: "What you gonna do when…?" The tempo slows slightly on follow-up track "Boomtown", a mid tempo rawker with more fuzz guitar and Doo Wop style backing vocal fills. "Dancin' in the Dirt" shows even more versatility in this Country fried Swing tune. The riff work is technically tight alongside harmonica in what is another toe tapping honky stomp. Big band brass makes intermittent honk fills on "Kingpin." Building from simple guitar plucks and opening vocals to full crescendo with rhythm section, horns and guitar as sum of the parts melody. "Waiting For Me" tells an autobiographical tale of late night gigs, longing to be home and anticipating seeing the loved one that's waiting for him there. Swing meets Honky Tonk with an underlying current of Blues guitar are the hallmarks of what in essence is really a love song. Dirty Blues guitar opens "Earthquake Shake" alongside Hammond-esque organ chimes and more Doo Wop backing vocals and fills.
Maybe you wax nostalgically about old Dick Dale records or maybe Big Band and Swing is you thing. Perhaps you miss the yesteryear foundation that gave birth to Southern Rock and vintage Country. If any of the above is the case, this is the album for you. Larson et al. seamlessly genre borrow and meld individual facets into an equally individual sound that would rival that of the Supersuckers or The Old 97s. The recording style (the tracks were laid down in an old barn) even harkens the echo style of early pioneers of Rockabilly. Simply put this is high energy, low production music that allows the music to speak for itself. As a relatively objective reviewer, I am stepping out of my box here… but this album is really, really, really good.
Rating: 4/5
http://www.facebook.com/pages/Crankshaft-and-The-Gear-Grinders/237455249606764
                   
by Christopher West – cwestlaz@gmail.com