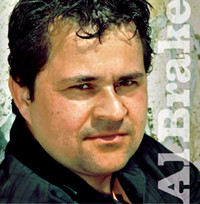 Among Canada's greatest exports are hockey goons and country music. With vocals as crisp as his name, and bluesy twang blistering from his guitar, Al Brake lives up to the proud Maple Leaf country tradition.
The youngest of 11 children, Al picked up the guitar at age 8 and joined the family chorus of fiddlers and singers galore. Now, with his talents refined through many years and millions of chord progressions, Al Brake emerges with his new self-titled album.
This album, consisting of ten songs — all of radio-friendly length, is eminently accessible and would make the perfect complement to a pickup truck excursion or (once no longer operating any vehicles) a raucous moonshine weekend.
Earlier this year, Al was nominated by the Indie Music Channel for "Best Male Country Artist." His track "Hot Pink Lady" received a "Best Recording" nomination.
[youtube 6HEdONEAFXU]
Indeed there is something rather infectious about "Hot Pink Lady." However, this is not the only standout track. The song   "China White," currently gracing British Columbia's Country 103 station, is an altogether lively affair with a fine chorus:
"Some were dancing for money. Some were dancing for fun. Some were showing off some dance moves that should never, ever be done."
"Some were getting crazy, dancing up on the bar. Some of 'em guys, with lust in their eyes, well they just went a little too far."
The track offers other such memorable lyrics as: "When I came to, I thought: What did I do? I couldn't recall a thing. I opened up my eyes, imagine my surprise, I was wearing her wedding ring."
[youtube 5WgxNNG2BZw]
It is quite possible that Hank Williams Jr. would like to snatch such lyrics for his own composition.
Before "China White" comes the track "Nothing Left," an incongruously sad song when compared to the rest of the album. Whatever one may feel of it, Al Brake proves on this ballad that he can croon in melancholy just as aptly as he can sing in delight. And, however tough they may come, every cowboy has to cry sometime.
Deserving notice is "I Met my Guitar First," which is a fine country title, almost worthy of a whole album, or country memoir. The song takes about 20 seconds to come to life. Once it does, however, there is enough energy to fire up the barbeque — another suitable event for Al Brake.
 
Visit http://www.albrake.com/ to enjoy all 10 of his new songs.
Ray Cavanaugh – owleyesgatsby@yahoo.com