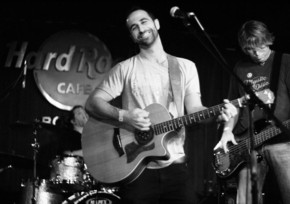 Hello to all Skope readers all over the world, how do you like the new Skopemag.com? I think its pretty awesome if I may so myself. I just read this great article on VentureBeat.com that states, digital music sales are expected to reach record-breaking numbers in 2012, according to data from a Nielsen study published today. I do not have to tell my readers how amazing this is to hear. I am really excited to bring back one of my favorite bands today, My Silent Bravery. We got to see the guys live in Boston at Hard Rock Cafe last month which I have some amazing photos of and they have the 'Can't Quit' Deluxe Edition out now with atleast 5 radio hits. Join us today as Matt speaks on the Deluxe Edition, new video for "Burnt Out" (Acoustic), issue facing the USA this election, and much more!
Stoli: Hello Matt! We meet again. Where are we talking from today and are you excited about the New England Patriots this season?
MSB: Yo Stoli! It's always a pleasure! Coming to your from Worcester, MA and yessir, I am excited about the Pats! Despite a couple early losses, I like their chances at another Super Bowl appearance!
Stoli: I know you got to play Showcase Live at Patriot Place! in Foxborough, MA. How was that venue for watching & playing a show and how was the crowd?
MSB: I really like that venue. It's a great room with great sound and staff. Crowds in NE have always been very kind to MSB. It's a shame that they are closing down Showcase Live at the end of the year.
Stoli: I have been watching your career take off over the years in amazement. What is it about My Silent Bravery and music in general that keeps you going & striving for more success?
[youtube 2Z_00-g2wPc]
MSB: It's a bit of a roller coaster Stoli, but I just try to keep a balance with it. I feel it is part of my life's mission to help deliver a positive message to the masses. I feel that music is one of the best ways to do this.
Stoli: Your album 'Can't Quit' is considered by many to be a classic. What can we expect on the Deluxe Edition and where can readers grab a copy?
MSB: Thanks so much for the kind words. I am very proud of the record. The Deluxe Edition has three additional tracks that aren't on the regular version. It has a fan favorite and video mix for the title track, Can't Quit. It also features a version of the second single, To Give, without Matisyahu. The final track is the Kool Kojak produced Four Yearz Remix which has a very cool electro pop type sound to it.   Readers can grab a copy on Itunes, Amazon, and all other major online retailers.
My Silent Bravery @ Hard Rock Cafe – Boston, MA – 9/28/2012
By: Alexandre da Veiga – a_roberto_23@hotmail.com
Stoli: You have been recording & touring with big names like Matisyahu & Howie Day. How do stay humble around these stars and have you learned anything from them about the music biz?
MSB: It's pretty easy to stay humble around guys like these, because their talent is so obvious and inspiring that it encourages me to up my game.   It is cool getting to work with guys whose music I have always enjoyed. As far as the biz side goes, I try to be a sponge and just soak up what knowledge I can.
[youtube vOc29pNSQzc]
Stoli: You have a new video out now for "Burnt Out" (Acoustic). What is the concept for the song and how does that play into the video as well? And who is the gorgeous woman in the video?
MSB: The basic concept for Burnt Out, is just feeling exhausted chasing after someone you love when they are unsure of their feelings for you.   The concept for the video was to take a relationship on one of its best days and one of the worst, and see how both of those times can lead to being burnt. The video stars actress Arianna Danae.
Stoli: When you sit down to write music, how much of your personal life do you let out in your lyrics?
MSB: I tend to base most of the lyrics in the songs around my personal experiences in life. The songs and messages have to mean something to me if I expect them to mean something to other people. Drawing from personal experience makes them more real and meaningful to me.
Stoli: You are constantly playing live. What can readers expect from a My Silent Bravery show and let us know where we can catch you perform?
MSB: I am currently finishing up a new record, so I have been taking a little time off from touring. I have one off shows here and there coming up which you can always find on my website www.mysilentbravery.com . Readers can always expect and honest and heartfelt performance.
Stoli: You take care of recording, distribution, and marketing without a major label. Do you look to be on a major label or do you feel that they can do more harm than good?
MSB: It gets to be a large task taking care of all of the business side of the things. I would welcome a major deal so I can focus more on the music. It has to be the right deal though!
Stoli: What is one issue facing the USA this election that is of most concern to you & why?
MSB: I don't like to get too into politics, but for me the economy and foreign policy are two major concerns.
Stoli: When you are not performing your own music, name two bands/artists that you listen to?
MSB: I love music, all types. Two of my current favorites include John Butler Trio and Damien Marley.
Stoli: What is coming up for MSB and where you at online?
MSB: I am currently wrapping up recording of a new MSB album dropping in 2013. It is tentatively titled, "Diamond from Coal". Readers can find MSB online at www.mysilentbravery.com, and on Facebook, twitter, YouTube, etc.; all @mysilentbravery.   Thank you Stoli for your continued friendship and support and thanks to all those out home reading! I hope to see you at an MSB show in the near future!