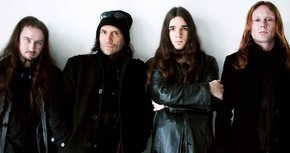 Hailing from the UK, Maxdmyz harkens back to the days when metal was the prime British export, when 'Maiden and 'Priest ruled the airwaves, before Britpop took down the 90's and boybands ruled the lands. Maxdmyz is a testament to the infinite appeal of heavy metal throughout the years, despite trends and fads, it'll always be the music of misfits, madness and mayhem… as it should be.
DiGDuGDisaster: Listening to your song samples on MySpace, I heard alot of different influences, from 80s heyday metal to the current underbelly of metal bands. For those who haven't heard yet, how would you describe your sound?
Twister: The easy and simplistic answer is Audioslave meets Rammstein meets Squarepusher — but that's as misleading as it is informative. The truth is we voraciously consume everything we listen to – and we're always listening to music, old and new.   When we're in the studio, not rehearsing or recording, we are invariably playing some track or other, either loving it –   or slagging it off.
[youtube 057_LY1TYYU]
Jamie: Ultimately, we aren't influenced by just one band or genre, and we don't consciously try to sound like anyone else.   Our music is a mish-mash of all our influences, not necessarily just metal and its sub-genres, but all sorts – reggae, dubstep, jungle, hard rock, and so on.
Twister: I think it's true to say that we have two basic voices musically — metal, live and raw, and tunes with synths and suchlike, and a more industrial edge. We often think of them as Maxdmyz Metal and Maxdmyz Industrial.
Moff: If we were to put it into a nutshell, if you took drumming that you would find in proper face-melting death metal, guitar work from bands like Prong and Meshuggah, with really sweet melodical stuff, grooves you would find in Down and vocal stylings taken from most of the heavy-metal genre, add in a dash of Gangnam Style and send it to a heavy-metal Titan blacksmith, the end result would sound somewhat like us.
DiGDuGDisaster: What is the metal scene like in the UK today?
Jamie: There is a lot of great talent out there, more than ever. But, like most scenes, the music has been over saturated with shit bands with great producers, bands who sound amazing on record, but who can't cut it live. We pride ourselves in being able to play our stuff without any trickery.
Skizzy: The scene is great if you're looking for it but, recently, larger U.S. metal bands have dominated tour line-ups and festival bills. Some of the best metal bands were spawned in the U.K. but Americans have honed their skills and thrown some fucking bad-ass bands over here.   Meanwhile, most of the people in the music scene here have been focused on generating newer forms of electronic music, which is a bit of a shame, because, as Jamie just said, there is some great talent out there.
DiGDuGDisaster: What can fans expect with your latest offering, the EP "All"?
Twister: Great production, great music, great playing.   The title track may not be typical of the majority of our stuff, but, when we write a song, if we like it, we play it. We don't worry too much about whether it sounds like our other stuff, or sticking to a particular genre — if the shit fits, we wear it! Our music is multi-faceted (as we all in reality are), not one-dimensional. Moff: It's a journey – we've taken various styles of metal, given them our own twist and worked and worked until we get what we want to achieve. "All" first three tracks are a roller coaster, Cyanide is pretty hard hitting, Turncoat Soul is groovy as hell, the title track will slow you right down, and has a pretty solemn message, and then Grieve will tears you apart – the title track definitely being the calm before the storm.
Jamie: It rewards multiple listening, because you definitely won't get everything the first time round. This is the way we seem to be going now, songs are getting heavier and groovier, but we're not afraid to write a slow song here and there. We are making the most of the talent in the band.
Skizzy: "All" is the taster for what's to come, we have an album's worth of material on the way, which is still in the works, combining seriously heavy tunes, with electronic-based tunes as well.
DiGDuGDisaster: Any tour plans? Have you ever played the U.S. or do you plan to?
Moff: Funnily enough, we were discussing U.S. dates just before doing this interview, Maxdmyz have never played the U.S. before, and we were discussing the practicalities, costs and the options.   Anything can happen, and we do have it in our sights.
[youtube CUjuvisXTdE]
Jamie: One interesting thing we did recently, which was a first for the band, was to perform and stream a live set over the internet, for an online game called 'Second Life', a lot of time went into it, and the end result was pretty damn impressive. Although, performing at 10am U.K. time to match timezones wasn't so great.
Twister: We don't have any gigs coming up — we've just been focusing on writing,   and cutting tracks, and getting a video done for All and a couple of other tunes off the E.P. – and then hitting the scene as hard as we can.   But if you want us to come tour, send us an email at maxdmyz@hotmail.co.uk, or one of our other sites.
DiGDuGDisaster: Your vocals have a lot of diversity, sometimes soaring a la Geoff Tate, or Deth Klok growling and everything in between, there are many dynamics going on. How important is melody in your particular brand of music?
Twister: I feel flattered by the comparisons. I'd like to say that I'm a master of all trades and a jack of none. But, seriously, I'd say melody was very important. Without the melodic, the growling and dissonance would have no context — without the harmony, disharmony has no meaning. I wouldn't want to deliver all my lyrics at the same register — in any sense. it's not that we don't want to stick to a single style, or that we can't.   It's just that most of our songs are like mini-dramas so, often, each voice or vocal style belongs to a different character or mental/emotional attitude or state. I love the idea of a kind of "dialogue" or conflict even between a clean vocal and a death-style line – it adds diversity, complexity and texture, and gives the song a sense of progression.
DiGDuGDisaster: Have you noticed the last few years in the strong influence of Iron Maiden in younger bands? Avenged Sevenfold or Alexisonfire for instance…?
Jamie:   I think that, if you listen to many new bands today, you'd find Maiden's influence, if you dug deep enough.   I think it's nice to find that we, as musicians and music lovers, are interested in creating something fresh — bands, such our own we believe, that are forging what you might call fusion-genres.
DiGDuGDisaster: Who writes the lyrics? Do you guys get political or do you write from personal experiences? Tell us about the writing process.
Skizzy: Twister writes the lyrics, unless one of us have a specific song title or subject that we'd like to see happen…That doesn't occur too often.   But we let Twister write the vocal parts, so that he can feel he is doing something useful.
Twister:   Excuse my pet monkey's sledge-hammer wit. The first thing I do is make noises that fit the music, I worry about the words later. The lyrics are always both personal and political — but in different proportions. The two things are ultimately ends ends of the same spectrum. As I mentioned before, the songs are character-based and, in the end, it's about taking events or experiences and dramatising them in the form of a song.
Moff:   We have taken on some subjects with a distinctly political and topical edge. The tune Seed   off the "Cosmic Hearse" E.P., focused on the 7/7 attacks in London in an attempt to dramatise the inner workings of an individual willing to bomb innocent people in a bus or tube train. As Twister said, even in the case of something overtly political, there's that inevitable personal resonance.
DiGDuGDisaster: What sets Maxdmyz guys apart from other UK metal bands?
Jamie:   We're much more prepared to play what we think sounds good as opposed to what people expect. This keeps us interested, and we hope helps keep our fans interested as well. We've had people say to us that they didn't know where we were going next — we like to keep them on the edge. It would bore the hell out of me for every track we do to be generic, or
from the same "kitchen" — it really would.
DiGDuGDisaster: Where can fans find more Maxdmyz?
Moff: Well, our band name is pretty obscure, so a quick look via your search engine of choice, and Maxdmyz will more than likely be the top results for quite a few pages, probably along with some Polish maths websites. But, our main bases are Facebook, BandCamp and www.maxdmyz.net. If you want any more of us — in the U.K. at least, come to a show, or catch us down 'The Intrepdid Fox' most Saturday evenings. We're the guys with long hair, band shirts and tattoos drinking Guiness or bourbon. Could be considered a bit of a walk/swim from the U.S though.
DiGDuGDisaster: Kid sitting at home working on his shred wants to be a rockstar, what advice do you give?
Twister: Andy Summers out of the Police once said to "keep your trousers on". It's not advice I've ever taken… but I guess I'd say don't pay too much heed to your good reviews, and take any constructive criticism out of the bad ones. But, in general, deal with the rough and the smooth just the same. Cultivate a sublime indifference to the opinion of others — good or bad, treat those impostors just the same. and do it for love.
Jamie: Whatever instrument you play, if you're into it enough, you will just keep at it for the love of playing.
Skizzy: Don't do it for money.
Moff: Try and achieve Youtube fame, but make sure you don't suck though. And we just wanted to say thanks to you guys at Skope – we've had a browse through your site and we are very impressed, and fully support what you're trying to do for the global scene! Thanks for the interview and the thoughtful review of All. All the best from London.
By: Douglas Garnett – douglas.garnett@gmail.com – http://digdugdisaster.com