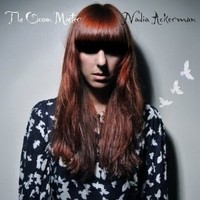 From New York (originally from Sydney) comes a fresh female artist known as Nadia Ackerman who just released her latest release "The Ocean Master" (2012). I always listen to the opening track extremely carefully. It's the opening track the artist has selected to hit your ears first and foremost. The opening track "Sometimes things do go Wrong" sets the stage rather well for a melancholy CD like this. It was a passionate intro piece that stuck in my head and had me eager for what lied ahead. All in all the whole CD is brilliantly delivered with a richly woven Alternative-Rock-Pop texture with songs that go far deeper than the next artist. Music will remind you of Suzanne Vega, Tracy Chapman, Mary Black, Joan Osborne and Paula Cole. To be honest I can't say enough about Ackerman's appeal and overall sound. One quote from the CD strikes me: "I know that one day I'll see the shimmering of your full sails blowing like a symphony carried by the wind." "The Ocean Master" captures a very genuine sound that grabs the listener right from the get go. But be warned you may not want to listen to this CD on the day you get fired. I happen to love dark and slow moving melancholy music that doesn't try to hard to win you over. That's how I would describe Nadia Ackerman. Ackerman has a sound that favors many Alternative female artists in the late 90's yet with a modern day feel. I've never heard an artist so skillfully combine so many genera's into one unique sound. Weather this is by design or simply by accident it's amazing. The songs that stuck with me the most were "Rick it all" and "The Middle of the Ocean."  
My only negative comment — I don't get the album title and concept at all. However I am curious to know what the inspiration is?
If there was one word or phrase I would use to describe Nadia Ackerman it would be "true to self".   I give Ackerman high marks for being herself and just letting the chips fall where they may. This CD will simply make your day more interesting as some of the lyrical content is hard to understand. No doubt the true meaning of some of this material is buried deep between the lines, but there's an undeniable passion beneath it all. Ackerman is a capable songwriter but it's obvious to me her primary goal as an artist is to make the world a much more interesting one song at a time. If that's sounds corny so be it.   This CD spoke to me personally and inspired me on so many different levels — especially as a female listener.
Links:
YOU TUBE – http://www.youtube.com/user/TheNadiaAckerman
FACEBOOK – https://www.facebook.com/nadiaackerman
TWITTER – http://twitter.com/nadiaackerman
AMAZON – http://www.amazon.com/The-Ocean-Master-Nadia-Ackerman/dp/B006ONORWY
Send review comments to indiemindymccall@gmail.com
By Mindy McCall edited by Cyrus Rhodes