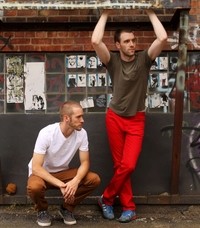 This Oxford Train from Rochester, NY has so many tricks under their sleeves it's not even funny! What do I mean by this you ask; well I'll tell you! This band incorporates so many different styles & genres within their music that there is no way you could categorize them. Everything from Pop, Jazz & Rock to Country, Folk & Blues you might pick up on and if not I'm sure Oxford Train has got you covered! After listening to this debut release I feel very confident in saying that Oxford Train could literally tackle any genre/style of music and more than likely make it work.
[youtube 5ducH_Uf3Mg]
This eclectic band includes four members: Steven Bower on lead vocals & guitar, Nate Boyd on bass/vocals, Phil Geiger on keys/vocals and Brian Mohr on drums. Right from the beginning of the EP on "Life Is a Song" the listener will experience an incredibly catchy sound that I can best describe as fun 'n' bouncy. As the 6-track recording chugs along one can't help but notice the fine playing displayed here that will prove to be music to your ears. 'Mister Oxford Train' is vocally & musically pleasing and one enjoyable listening experience. On the title track Oxford Train will grab you from all angles by producing such a fan-friendly & appealing sound. Brace yourselves because on the song "Halfway" you will get to hear a classical country approach in the background that just blew my mind! And then the Oxford boys decide to get spunky and end on a sassy note with a track titled "My #1 (Sex Friend)"-HEY NOW! Hmmm…wonder what that's all about??? I also have to say that the backing vocals were very nice and the material is smart 'n' witty yet light-hearted & playful. And I can't say enough positive things about Steven Bower's razor sharp singing that really got my attention plus the man can play a mean acoustic guitar that's oh so good!
I am overly impressed with this group that calls themselves Oxford Train because you can't deny the raw talent and rich goodness that these four musicians possess. These Rochester, New Yorkers made me a believer as I am a big fan now due to their fine work on 'Mister Oxford Train'. I highly recommend that you jump aboard this Train and pick up a copy of all six tracks right now!  
Oxford Train's next stop is: more airplay + more fans+ more shows= instant success! For more on this band and their debut EP SKOPE out http://www.oxfordtrain.com.
By Jimmy Rae