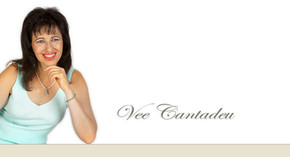 Vee Cantadeu is an extremely versatile singer and musician.   Born in Heidelberg Germany and later becoming a citizen of Switzerland, her music ranges from German folk songs to opera, church and gospel music, modern pop and songs from musicals. Her Diva voice is rich and even mystical at times giving her a unique and breathtaking sound that captivates and enchants her listeners.
Tell us about growing up in Germany.
My family ran and owned a business, a garage with several repair lifts, a filling station, replacement parts storage, car wash, electronic test compartment, several offices, car park and sales department for BMW and FIAT. I grew up in kind of a mans world as I was the only girl with two brothers and two cousins. Although there is a female cousin too, she was rarely around as she is much older than me.
Like any child, I went to elementary and high school. I left Germany with my family to go to Switzerland and received my high school diploma or in Swiss-German "Matura" in Switzerland. I was a so called bright kid and could afford having lots of different hobbies besides school and helping with the family business. Besides music I did gymnastics, Judo and rowing in the nearby river — although not all at the same period of time.
How did you get started in Music?
The first instrument I learned was the wooden flute — as many kids do — at school. I played it until I left for Switzerland. I even started with the bigger edition, the F-flute. I was taking lessons in a group, but I never got much interest shown by my family towards playing these instruments — although I was good, something I found out much later.
[youtube NStHqaOXbDY]
My father was playing trombone in a local church brass choir.   I always was fascinated by this metal thing sliding up and down and tended to disturb my father while he was practicing by trying to hold on to it.   Well, every trombone player will know how annoying this must have been to my Dad.   Anyhow, one day I asked him, if he would show me how to play. I was ten. Just to have his peace he passed me the instrument to see if I could get some sounds out of it. To his surprise I did pretty well. So he instructed me on my very first tones and taught me to read the bass clef. Within 6 weeks I was playing well enough to participate in the local youth brass church choir. From then on I was performing many times a year with this group in church services, on holidays, at funerals or grave yards, at hospitals and community church celebrations. I learned a great deal about church music. I loved it and the acoustics within the churches. Once I came to Switzerland this type of music went into the background. I joined a local brass and marching band ending up in a uniform marching along the streets. But mainly we played for banquets and celebrations or gave concerts.
With regard to singing, I just knew I enjoyed it.   Like many other kids I was in the local high-school choir. Although I liked singing up high I was always put into second soprano, as I was reliable and kept the tunes. I practiced melodies either at church services, together with everybody, with the local church community youth group or each night when I brought my younger brother to bed. He always didn't want to sleep. So I recall endless hours of singing lullabies and German folk songs to him. Later on in Switzerland I became a member of another youth group performing songs together on the streets and a church choir performing at the church.
Who were your inspirations?
Certainly my father was a big inspiration, then a very good music teacher at the high-school.   In a way my mom was to, as she used to turn on the record player or sing along with me and my brother from a very early age. At four years old I recall kneeling on a little stool hopping around on it to Bill Haley's Rock Around the Clock. Oh how I loved this song! I wouldn't accept any other music slower than this as rock'n roll until I was about 18, even though I later had an Elvis LP collection.   TV was also a source of inspiration. I loved watching musicals, old style movies with Doris Day, Frank Sinatra, Barbra Streisand, Gene Kelley, Judy Garland, Fred Astaire and many more.
As member of the church youth group in Germany I often was involved with Evangelist gatherings. At one of them there was a group of American singers, The Continental Singers, performing on stage. I remember I was so impressed I prayed to God I wanted to do the same one day. But still I never would have thought I'd start a voice education or singing career rather I wanted to have such a mighty voice like an operatic singer. Well, I learned to sing in the operatic way but I'm not really keen on opera just on certain arias.
Buy: http://www.cdbaby.com/artist/VeeCantadeu
Of all the varieties of music you have mastered, which is your favorite genre?
This is hard to tell as I love all I done and am doing. Maybe it helps to look at it in an emotional way. I love romantic songs, either art songs, arias, pop or folk songs — Ballads.   I also love fast music like rock'n roll or beats that are good for dancing. That's why I started with Latin music, too.   In general I like singing songs with high notes as I still love singing up high. The problem — if one can call it so — is that nowadays most of the songs played on the radios and sung by women are sooooooooo low. Women tend to sing low tunes and men high ones. Did you ever notice?   What I love is producing crystal clear sounds, may be a relict of my German time at churches, where I loved the acoustics. Besides I still do. Spiritual or church music and German art songs work well for this kind of singing. But there are also songs in Spanish like "Concierto para una sola voz" or "Que sera que sera" from José Feliciano that sound great when I sing them. I never could perform "smokey-voice" songs as this contradicts physically the way I'm singing. It's not as easy doing it in my way. It took a great deal of training.
Tell me about your CD's.
So far I've produced three CD's. The very first one contained only six classical songs and was intended to be a demo-CD but, after live performances I'd been asked so many times if I had a CD that I decided to enlarge it with a couple more songs to be able to offer something.
The second came out of my love for Christmas carols. I put a collection of my favorite Christmas songs on it, all German but one, I couldn't resist White Christmas. The specialty with this CD is that the piano playback is from my voice tutor Prof. KS Helga Kosta.
The third contains my own music. I wrote the songs, the lyrics, played the keyboard, sang the tunes and even designed the CD cover. But the very reason that I made it was that it was according to an angel channeling I did in 2009. Yes, I had contact with angels, as weird as it might sound. In 2009 I went to an angel course to be trained to channel with angels. I kind of was assigned to do a CD and to use songs with assigned effects in a special order. What came out is "I am light". The physical CD contains seven songs and their seven playbacks. The lyrics are included with the cover. So everyone can either listen or sing along by oneself with the music. I got requests for online shopping possibilities of mp3 downloads. So now one can buy five of the songs singularly as mp3 downloads on platforms as Amazon and itunes. There's a special story regarding the "genesis" of my CD. It was created as a result of the angel channeling I'd done. Yes, I've trained to channel with angels and it works! The CD is designed after a special concept to attain healing effects for the listener. A&O is the first song in the row with the purpose to kind of lift the listener off to a higher plane of vibrations ("closer to heaven") out of the everyday-life patterns. The following songs on the CD are supposed to create reflection and restructuring of one's thinking and kind of re decending into normal life
frequencies with new or revitalized vibrations and thinking – kind of musical short vacation. Therefore each song on the CD including its lyrics has also a special purpose in the row of its appearance.
Are you doing any touring?
Presently not. But I'm open to it, if there's a possibility for it popping up.
Are you working on any new projects?
Yes and No.   I always have projects in my head.   But, I am always lacking enough time and there are some technical problems I have to solve.   I have new songs but they are still on paper and need to be produced.   My music software is so slow that I am planning to get something new or possibly a MacBook.   All of this costs and I first need to earn the money which delays production.   I have always wanted to make a CD with modern and fast songs, some fun stuff.   I usually perform these songs live but somehow they never find their way to the studio.   I'd like to also add some listening examples of musical, jazz standards as well as Latin music to my listening section on my website.   So far it appears as if I was strictly classical oriented so my website needs so work but my webmaster got sick so, this was delayed too.   I am currently learning new songs and improving my skills on piano.   My first piano lesson was at twenty seven. I am practicing every couple weeks with a pianist.     I also want to improve my Spanish for the Latin music I do.   I also have to continuously apply at different places for gigs.
What would be your dream project or performance?
I'd like to have my own band and tour around the world playing what I call "positive" music. Music with a healing impact on the listener. I think we've already got enough heart breaker music. I'd rather perform heart healing music. I'd like to play in grand places like the Carnegy Hall, the Hollywood Bowl, the Royal Albert Hall or the Berlin "Schwangere Auster" or "Waldbühne" as well as on folk festivals or open-air concerts like in Glastonbury or Priddy or other places around the world. I also always wanted to do the voice for cartoon characters, such as Disney Cartoons.   I mean singing and speaking the role of one cartoon character. I never really liked theatre although I have acting talents. By "playing" a cartoon role I'd have a completely different set up I'd really enjoy.
Diana Olson   – diolson05@yahoo.com