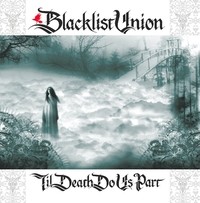 Los Angeles based band Blacklist Union is back with a brand new body of work and a brand new attitude to boot. Their 3rd full length CD is their best body of work to date and is a virtual who's who of rock from beginning to end. From the first and title track "Til Death Do Us Part" til the very last cut "Same Ol Pressure" this body of music will keep you mesmerized and hypnotized throughout its 45 minutes of pure gut level rock-n-roll. An 11 song collection of songs written and performed by a cast of who's who from the rock n roll world. Recorded with ¾'s of the well known rock band SALIVA, as well as Hunt Sales ( formerly of David Bowie's Tin Machine & Iggy & the Stooges) this CD delivers the goods.
URL – http://www.reverbnation.com/blacklistunion
Now getting to the album: "Til Death do us Part" is their latest release to date and t has much to commend it. Admittedly, there is a whole lot of variety to these arrangements and performances. First: The impressive 4 piece band delivers rock solid playing like a well oiled machine. This is testament to hundreds of hours of rehearsal time no doubt. Second: West's voice and production touches hit the mark remarkably well within the context of this catalogue. Third: the sound and amazing songwriting touch is action packed. In fact one could classify Blacklist Union as a four genera artist: Progressive, Classic, Hard Rock and Alternative Rock. All songs are a skillful combination of all the aforementioned genera's. Music will remind you of Jon Foreman, Kutess, Hawk Nelson and Falling Up. Blacklist Union have the power and songwriting prowess to be extremely dangerous. There's also a unique quality to this catalogue that breaks the mold when compared to the overly predictable, forgetful rock that's been filling the airwaves lately. What am I trying to say — well let me start by saying there is nothing predictable and forgetful about Blacklist Union. Weather live or in the studio Blacklist Union is one of the hottest bands in LA right now. Not every square inch is filled with musical ambience delivered under duress — but musical space this allows the music to breathe on its own with passion that cannot be faked. Equally as impressive is how marketable this band is as they have effectively found the voice for all frustrated Hard-Rock fans out there. It covers so much ground and despite this it manages to not spread itself to thin across to many lines — nicely done! This is harder to do than it sounds and can only be a by product of being ones self musically. I've always said if you can play it a party, then it's marketable. The music is extremely marketable – with a raw sound that is passionate and entertaining very much like the band.
Final Word: All 45 minutes will genuinely rock your world, shake the tree and lift your spirits unlike most music you hear on the radio these days.
written by Heather Savage edited by Michael Rand
Musical Genera: Alternative Rock, Hard Rock
[Rating: 4.5/5]