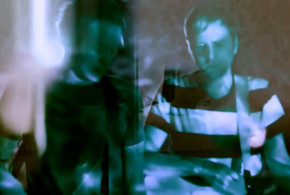 New Animal's brilliant visual compliment to the track "Falling Up" tells the story of friendship and love between the two main characters. Nikki of The Wild Honey Pie says, "Like a tap dripping steadily and slowly, this song and its accompanying video will find a way to captivate your mind for at least the next few hours." Watch "Falling Up" on The Wild Honey Pie.
[youtube 8fqr8huR3Aw]
New Animal is Kris Hermstad and Derek Burdette, Atlanta-based middle school pals. The genre bending duo started collaborating in 2010, writing and recording three releases in their first year of existence, including their self-titled debut. After taking some time out to craft new material, New Animal is back with two goosebumps-on-the-back-of-your-neck-worthy songs that are available digitally now via Old Flame Records, with a limited edition cassette version to follow.