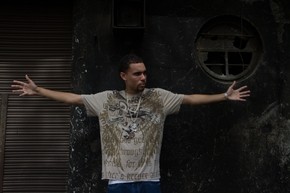 Raised in Kingston, Jamaica, Nomad Carlos began writing lyrics early on.   Once he figured out that Hip Hop was his calling, he went to great lengths to get his music out to the Jamacian public.   It didn't take long until a culture of hip hop grew around him.     He has become a welll known hip hop personality in Jamacia and his unique and gifted style is spreading quickly throughout the world.
 
Tell us about growing up in Jamaica.
 
-Growing up in Jamaica was cool. I grew up as a more privileged youth than others who had less opportunities in Jamaican society. Also everybody here is a familiar face because it's a small island.
 
What got you interested in Hip Hop?
 
-I used to watch a lot of hip hop videos when I was younger. My older cousins were also rappers and I used to watch them rap as well. I was surrounded by it as it would be part of daily conversation with my friends so all of that boosted my interest.
Who were your inspirations?
 
-Artists like Bone thugs n harmony, Nas, Mobb Deep, Method Man, Busta Rhymes were some of the first hip hop music I remember listening to. However, that's just a few of my inspirations.
[youtube d-JjgKynZqk]
Tell us alittle about how you got your music heard through the Internet?
 
-Well, i've been using the internet to my advantage a lot. My last mixtape is on datpiff and I've released videos on youtube as well. I've also been on a couple dj's mixtapes as well who support my music. So, the internet has helped a lot and it has gotten me   heard through relevant outlets, and not just here in Jamaica.
What makes your music special in your opinion?
 
-I feel my music is special because my content is different because I grew up in Kingston, Jamaica so, most of my experiences and the things I talk about are from a different perspective. I also incorporate some reggae sampling to reflect the culture in my music. Not that it hasn't been done before but I think that's always something special.
What projects are you currently working on?
 
-I'm currently getting ready to release my new project "Me Against The Grain" on November 6, 2012 . I have just put out a music video for my current single "As Real As It Gets". I will also be doing more visuals as well.
What are your long term goals, what would like to be doing 5 years from now?
 
-Next five years I'd like to be touring the world and performing for my fans. I'd also like to form a label where I can give the local scene the opportunity to be heard internationally.
www.reverbnation.com/nomadcarlos
www.facebook.com/NomadCarlos
 
By: Diana Olson – diolson05@yahoo.com