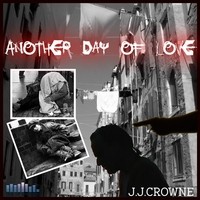 The one-man band J.J. Crowne is at it again with an exciting, new EP out titled 'Another Day Of Love'.   The first time I came across J.J. and heard his music for the first time was last year when I did a Review + for his album called 'Songs Of Innocence And Experience' (http://skopemag.com/2011/07/22/j-j-crowne-songs-of-innocence-and-experience).   I knew then that this artist had that IT factor to go along with a special gift that can only be appreciated and welcomed by many.   Right after that article I got the chance to interview Crowne where I found out a lot of cool & interesting facts that further added to his credibility (http://skopemag.com/2011/09/26/j-j-crowne-dishes-out-plenty-to-j-rae).
J.J. Crowne – "Toy Soldiers":
http://k006.kiwi6.com/hotlink/961b39tsvs/j.j._crowne_-_toy_soldiers.mp3
Recently I was lucky enough and honored to do a full Bio on J.J. Crowne where you will find out everything you need to know about this eclectic musician from Miami (http://skopemag.com/2012/09/04/j-j-crowne-the-musical-chameleon).   And now this; a new Review + for J.J.'s 'Another Day Of Love' and I have to say that this could be some of Crowne's best work to date!
The EP features five songs that are actually on 'Songs Of Innocence And Experience' however J.J. completely changed the songs around and called in some industry vets to really polish it all up nicely.   J.J. was now in good company with two top-notch producers Jeff Silverman and Stephen Wrench who produced, mixed & mastered 'Another Day Of Love'.   Crowne, as always, handled all of the vocals, instrumentation and music plus wrote all of the songs.   I know firsthand that this project meant so much to J.J. and that a lot of blood, sweat and tears went into the making of this EP.   Pure passion and instant success combine to make up a finished product that sounds effortless and flawless on all levels!
[youtube MpWRF785xqo]
The title track really stands out as a monster of a song because the substance is so heavy where all the evil in the world can never defeat the powerful force of love hence there will always be "Another Day Of Love" no matter what.   The message is epic, the lyrics & imagery are razor sharp and J.J.'s presence both vocally & musically is nothing short of amazing.   There was one moment here that truly stood out to me as being the most impactful and that would be when you hear the voice of an announcer say "John Lennon is dead, died of gunshot wounds" and then Crowne immediately follows that up with "Imagine we had Another Day Of Love".   This is so beautiful, perfect and smart all at once as you hear tragic news that a music legend has died at the hands of another man but then J.J. reassures you right away that love conquers all even during the worst of times.   I also think that using the word "Imagine" to start up his reassuring lyrics really fit and made sense plus gave respect to the one and only John Lennon (R.I.P.).   This song really spoke to me on a personal level but honestly the entire 5-track EP spoke to me in some profound way.   Just like on his previous release, J.J. remains true to his light sound and peaceful demeanor that comes across as so pure and natural.   The four other tracks on this new release are:   "Only Time", "Best of Intentions", "She and He" and "Toy Soldiers" (Listen right here!).   After hearing this entire recording you will know right away that J.J. Crowne's songwriting ability is poetically impeccable and his musical talent is undoubtedly impressive.   And from a production standpoint I have to say that Mr. Wrench and Mr. Silverman really did an excellent job making J.J.'s music and words truly come to life in the way that they were intended.
Overall, I have not a single negative thing to say about 'Another Day Of Love' other than it's TOO damn good!   The genuine spirit and pureness that J.J. Crowne displays in his songs and in his music is really second to none in my book.   I have a tremendous amount of respect for this creative individual not just from a musical standpoint but also from a personal, humanized level.   This man J.J. Crowne is the real deal folks and if you haven't heard his songs yet then you need to go check him out right now!   Here's to my friend who I like to call The Musical Chameleon: may your journey and legacy live on for a very, very long time.   For more on this Miami Sound Machine SKOPE out these cool sites:
http://itunes.apple.com/us/album/j.j.-crowne-ep/id539529328
http://www.facebook.com/JJCrowne/app_2405167945
By Jimmy Rae (jrae@skopemag.com)
[Rating: 5/5]