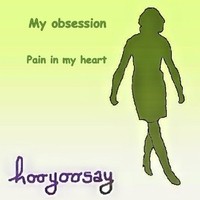 So okay I love when this happens where I discover new music by way of research for a review!   This is exactly what happened here with Hooyoosay's "My Obsession" and "Pain in my Heart".   First up is a cover of the 1967 track "My Obsession" off of the 'Between the Buttons' record by the one and only Rolling Stones.   I am a HUGE fan of the legendary Stones and I own a ton of their music but surprisingly I have never heard this song before.   My first impressions of the original version were simply that I'm sorry I didn't hear it sooner!   Mick Jagger was in rare form and the entire band was bringin' it home in typical Rockin' and Rolling Stones fashion.   Now as for Hooyoosay's rendition of "My Obsession" I have to say completely different yet audibly pleasing.   You definitely get that vintage rock vibe but you'll also pick up on a hip dance beat that makes for a very catchy song.   I also couldn't help but notice that the vocals & tone of "My Obsession" were completely opposite of the original.   Jagger was more in your face and raw with his vocal performance whereas Hooyoosay's singing comes across as more hypnotic with a bit of mystique attached to it all.   Both versions are polar opposites but both are quite enjoyable to hear.   Hooyoosay wouldn't dare try to compete with the iconic Rolling Stones; who would!   But "My Obsession" was handled with respect and really took on another life of its own.   Soo I say to Hooyoosay on this one–job well done!
[youtube 1Ts45wOgGwY]
Next up is another cover and once again music royalty is attached to this installment.   The track "Pain in My Heart" has an interesting story of its own where the song was originally written by Allen Toussaint but has several different faces attached to it.   During the early 60s, some of Toussaint's songs were published under the pseudonym "Naomi Neville" and "Pain in my Heart" being one of those.   "Pain in My Heart" was actually called "Ruler of my Heart" first and originally recorded by Irma Thomas.   The song would then go onto be recorded by the soul master Otis Redding under the name "Pain in My Heart".   So very interesting history this song has and now Hooyoosay attempts to add yet another face to it.   My first time hearing the Otis Redding version was today and I must say that I was completely blown away with the substance of the song and Redding's performance.   Otis Redding delivered so much damn soul on "Pain in My Heart" that I think I feel like a "Soul Man" myself now!   And so the original was incredibly impressive to say the least and so how would Hooyoosay's cover pan out?   I have to say that the new version turned out nice but once again completely different.   You're not getting that Otis Redding feel but what you are getting is a very direct approach vocally that is extremely soft to the touch.   The lyrics and the music contain feelings of sadness all put together in a short, bluesy ballad.
Hooyoosay's secret is simple and that is for random musicians to play live with real instruments and no fancy studio production/digital enhancements needed.   I say if ain't broke then don't fix it but I honestly would love to hear more from this Hooyoosay, so Whatdooyoosay?   In the meantime enjoy their two-track single and you can find out more about the band right here: http://hooyoosay.com.
By Jimmy Rae (jrae@skopemag.com)
[Rating: 3.5/5]