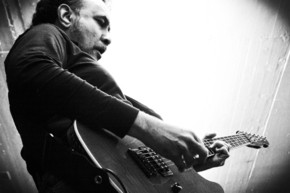 Hello to all Skope readers all over the world! I have to be honest that I am not feeling too hot today but I decided to take some Dayquil and suck it up. I am glad I did because my guest today, Ajay Mathur, has got me inspired by his new single/video "Taking The Night Away." The video is inspired by people all over the world who have finally decided not to sit back and accept what they see as injustice, but to take action, take to the streets, even if it means sacrificing their freedom, or in some cases, their lives. Music is the ultimate form of expression and it is nice to see how Ajay uses music to speak on real issues that effect us all. "Taking the Night Away" is one of many powerful tracks on Ajay's new solo release, 'A Matter of Time.' Join us today as we chat with Ajay Mathur on the US election, why he wrote "Taking The Night Away", his respect for John Mayer & Tom Petty, and much more!
Stoli: Where are we talking from today and how was your summer?
Ajay Mathur: Hi Stoli, Right now I'm in the beautiful city of Lucerne in Switzerland and this has been an amazing summer! I'm absolutely thrilled to see how well my album A Matter of Time is being received by the international media and listeners around the world, especially in the United States. For example, in just over three months, I've reached an incredible 96,000+ plays and nearly 27,000 views with NumberOneMusic.com, a music portal dedicated to the development and exposure of artists and bands. I also topped the Rock-Pop genre and have created a solid fan base through the site. I'm getting excellent album reviews on a number of webzines and both Internet and FM radio stations have started putting my music on their playlists. To top it all off, my first video for the song 'Taking the Night Away', a powerful socio-political piece, was premiered worldwide by Skope Magazine attracting at lot of attention. Isn't that what makes up for a fantastic summer for an artist — beside all the lovely warm days and nights and the swims in the clean, blue waters of Lake Lucerne?
Stoli: Have you been paying any attention to the US elections and is there really any difference between Romney or Obama?
Ajay Mathur: It's hard not to pay attention! The media is full of news, statistics and trivia about the competing candidates. I personally feel that no one can make any sustainable "change" as a president in a 4-year term, especially in a dogmatic political climate, where the two parties focus on their own agenda and winning elections is always highest on the priority list. It's just too short a time and the current challenges are too deep-rooted, too big. The ideological chasm between the two parties is too deep. I'm afraid that all those people who expect instant solutions from the person in power will be gravely disappointed, no matter who that person is. I'm talking about changes to financial and structural "sins of the past" that reached the tipping point years back and started the dominoes falling. This is not about Obama or Romney. I don't think either one of them can "do it", much less within a 4-year term. These problems are very real and not just campaign fodder; they are rooted in the societies and in the interdependent financial systems of developed countries. There are destructive dynamics in these systems and they are gaining momentum. The risk that average middle class working people might fall through the cracks of the economic system is at its highest in the last 60 years. This is about peoples' lives, their homes, their health, their jobs, their families, and their future — not about political conviction. Election time is big money spending time and a time to make promises that are impossible to keep. I can't imagine how Americans feel watching the wastefulness of U.S. presidential elections when they've lost their home due to foreclosure, or lost their job because some corporation shut down or can't pay their medical bills because their health insurance doesn't cover them.
[youtube NgsWUUEsO9g]
Stoli: Growing up in India, when did you get your first taste for music and you pursued it?
Ajay Mathur: My family is a family of artists and musicians. I was always surrounded by music and art. I think it was a dusty, pink, acoustic guitar in my uncle's attic and my first go at "Sloop John B" got me started with music. Listening to music from bands like The Beatles, The Doors, Bob Dylan, Jimi Hendrix, and Buffalo Springfield clinched it. I've never looked back.
Stoli: Was music a reason that you left India and where else have you lived that helped you grow as a musician?
Ajay Mathur: I did a lot of live gigs in India, played in a number of clubs and venues in New Delhi and Mumbai. Love was the reason I left India. In between I've also spent some time in London and Los Angeles and enjoyed the music scene there, got to know some creative musicians and producers, jobbed in studios and at record labels. With my band Mainstreet, I worked and played a lot in Germany and in The Netherlands. Yet in all these years, Switzerland has been my primary home-base and I've had the honor and pleasure of playing with some of the finest Swiss musicians on my current album A Matter of Time.
Stoli: Have your family & friends been supportive of your musical ambitions?
Ajay Mathur: Yes, my family has always been supportive and encouraged me to make music, even though some of them don't always understand the obsession! Some of my best friends are excellent and seasoned musicians. Musicians like Richard Koechli (slide guitars) and Fausto Medici (drums and percussion) contributed actively to my album A Matter of Time and motivated me to release it as my first solo album. The support from my family and my friends has been enormous and I'm very grateful for it.
Stoli: I am blown away by your video for "Taking The Night Away." What inspired you to write that song and how has the response been?
Ajay Mathur: I was blown away by the peoples' movements. First the Arab Spring, at the end of 2010, which completely changed the political landscape in some countries in the Middle East. Then the grassroots "occupy" movement in the United States in September 2011. This time something was radically different than a lot of other protest movements in the past. This time there were people of all age groups, professions and ethnic backgrounds involved in these protests and it became global very quickly. This movement has spread to almost every developed country in the world and has taken over a peaceful, yet determined dynamic of non-obedience. These are working-class people, families, old and young people, people who have decided not to sit back and accept what they see as injustice, but to take action, take to the streets, no matter what the sacrifice.
I got inspired by the positive spirit of the struggle and lingering hope that the average person can change what has been forced upon them by the misled power and greed of an elite few. People are no longer willing to sacrifice their own well-being and the well-being of their loved ones for the benefit of the privileged few. Taking the Night Away is a song about hope. As long as there is hope, there is a chance for positive change. Taking the Night Away evolved and matured with these movements.
The response to the video and the song has been phenomenal. I've received lot of feedback – either you hate it or you love it. It just doesn't leave you cold, it agitates you, makes you feel and think. In that respect, I think the video serves its purpose; it doesn't leave you unaffected. This is the least I can do. Keep people aware of what's going on so that we don't forget, even after the topic disappears from the headline news.
Stoli: Some musicians ignore society's troubles. What has made you want to address all the people around the world who stand up for political struggle against social injustice and isolation?
Ajay Mathur: Music plays a big role when it comes to opening up new perspectives in the minds of listeners. Music may not change the world or a system, but it does help to make us dream, give us hope, make us feel strong and even loved. Music can evoke powerful emotions in people. I am a part of the society we live in and everything that happens in this society effects me and my creativity, directly or indirectly. I'm not shy about writing and singing about what's going on around me or inside me. My music, especially the lyrics, reflects that. Taking the Night Away is about social struggle. It's not the only song on the album that talks about social injustice. "Mister" for example, addresses the plight of people who have been forced to leave their homes because there's no future there for them. It's about refugees and about the conflict and mistrust they face in the countries of refuge.
I've always loved the poets and songwriters who addressed social subjects. These are songwriters like Woody Guthrie, Bob Dylan and Jackson Browne to name a few of the best. Taking the Night Away is my way of addressing the struggle that people are going through in our society.
Stoli: What is the perfect mood & environment for you to write & play music?
Ajay Mathur: There's no specific "perfect mood" for me when it comes to writing a song. I could be sitting outside on a perfect summer day. I could be strumming my guitar in the living room on a Tuesday afternoon. I could be driving my car and be uneasy, restless or even edgy. I usually write when I'm alone.
I love playing my music live. I love connecting with the audience. It is an amazing thing to feel the energy in a room that is created through music. The interaction during performances is magical and fulfils me. I have fun inviting guest musicians to the stage. This inevitably opens up the songs to improvisation and experimentation. My basic live setup is a trio — drums, bass and me on the guitar. Guest musicians add an element of "jamming" which I love. Playing live is dynamic and I feel free to re-interpret my songs. They sound different at each performance. For me that is the perfect environment for playing my music.
Stoli: You had your own successful rock group Mainstreet, but why did you decide to go solo and what are the advantages?
Ajay Mathur: Although I wrote and sang all the songs for Mainstreet and enjoyed successful tours with the band, going solo adds a whole new dimension to my creativity and opens up the space for musicians of my choice, both while recording and playing live. Unlike the songs on Mainstreet albums which were collectively selected and designed to fit an album sound and concept, as a solo artist I finally have the freedom to treat each song on 'A Matter of Time' as an individual and independent entity, a 'single' that stands out on its own.
On 'A Matter of Time' I've had the freedom to experiment with natural sounds, voices and instruments. The Tablas and vocal improvisation on the title song are examples of that. This is something I couldn't even imagine pulling through with Mainstreet. I love to experiment with sounds and visuals – like the video of 'Taking the Night Away'. Going solo gives me the freedom to do all this.
Stoli: Name 2 other musicians of substance that you respect & admire their music?
Ajay Mathur: John Mayer is currently my favorite guitarist and songwriter. He's my soul-mate when it comes to the themes in his songs. Tom Petty is another musician and songwriter that I greatly admire and respect. These are musicians and songwriters with a unique style, substance and grit. Playing live, as opening act for these musicians would be my nirvana as a performing artist.
Stoli: What issue facing the world today is of the most concern to you and how can we raise awareness?    
Ajay Mathur: It's the growing gap in our societies that concerns me most. It's the widening gap between the majority and the privileged minority, between the hungry and those speculating on food prices, between the law and justice, between the protected and the segregated, between average people and those in power, between the needy and the greedy. This gap's growth in developed countries is usually quite subtle and often well camouflaged. The recent peoples' movements have shown that there's a growing awareness and an edge of desperation about what's going wrong. The challenge is to keep up the momentum of these movements and not just return to business as usual. A danger lies in infecting people's minds with doubt and fear so they are discouraged about pursuing big, important change. We can only raise awareness by not staying silent or being fearful or complacent about these issues. It's important to speak out, to publicize information and discuss these issues over and over again. Action is required.  
Stoli: What coming up for Ajay Mathur and where can we follow you & buy the album online?
Ajay Mathur: Right now I'm working on a video to accompany another song, "Easy" from my current album A Matter of Time. There are concerts planned for late Fall and Winter, that I'm really looking forward to. You can follow me
on Twitter @actofchoice,
on Pinterest http://pinterest.com/ajaymathur/,
on Facebook https://www.facebook.com/actofchoice/  
on Reverbnation http://www.reverbnation.com/actofchoice
on Number One Music: http://www.numberonemusic.com/ajaymathur/
You can buy my album A Matter of Time on almost every online store including
CD Baby: http://www.cdbaby.com/Artist/AjayMathur  
iTunes: http://tinyurl.com/3avlaxg  
Amazon.com: http://tinyurl.com/66b76pz  
Tunecore: http://www.tunecore.com/music/ajaymathur
CD Universe http://www.cduniverse.com/productinfo.asp?pid=8615880
Facebook https://www.facebook.com/actofchoice/app_164380056952184
Reverbnation http://www.reverbnation.com/store/index/artist_1233713
MOG http://mog.com/albums/mn55805341/ajay-mathur/a-matter-of-time
eMusic http://www.emusic.com/listen/#/album/-/-/12681703/