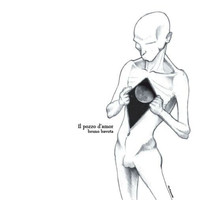 About the Artist: This is Bavota's latest release. Researching his bio he has an accomplished musical career thus far. A few top accolades include: Song featured on soundtrack for American film "Power of Purpose". He was the Winner, with the band "Adailysong", of the "Eccellenza Napoletana" award, delivered at the Palazzo delle Arti Napoli (PAN) and was included in the "Compilation Zimbalam" among the best artists of 2011 with the song "Il Pozzo d'amor" (Love's Well) that the title of his first album.
URL – http://brunobavota.bandcamp.com/track/il-pozzo-damor
Review: Il Pozzo d'Amor   is one release that certainly doesn't disappoint. This is artist that brings to the table effective songwriting via a highly emotional and impassioned playing style. This meshed with an elite Euro-Classical sound make for a very effective combination no doubt. Bavota could put a suit and tie on overall his sound and venture into Ambient, New Age territory — however he elects to take the high road and methodically never crosses the line out of the Classical realm of music. All songs are wonderfully simple but masterful in their overall arrangements. Music reminded me of a cross between Giovanni Allevi Whitetree, and Max Richter. One would be wise not to underestimate how entertaining a classical piano can be. This CD is quite entertaining overall with an amazing feel. In this aspect Bavota is a master musician. In my mind he is a musical triple threat. He is a world class songwriter; he has an amazing playing feel and he has X-Factor. What is X-Factor? It is the passion within and it's something an artists has to be born with. It's not taught in any textbook but can be felt when listening to the music. Bavota has X-Factor. His playing is straight from the heart and offers a very strong and confident soul searching perspective and artistic spirit. All song do exactly what they are meant to do   via well-crafted movements and top tiered musicianship. The overall production value is superb with a crystal clear sound quality and solid low end frequency.
Top Tracks: Il rumore delle stelle cadenti, La luce nel cuore, Tempesta
Criticism: I'm not a big fan of the cover art concept to be honest. Ironically it fails to relate to the Classical sprit.
Soundcloud – http://soundcloud.com/bruno-bavota/sets/il-pozzo-damor/
Conclusion: Bruno Bavota has proven himself yet again with this latest release. He is clearly an accomplished player and composer. I must admit "Il Pozzo d'Amor " sucked me in like a powerful drug and refused to let go long after the CD was over. This usually indicates he is something special about the artist or band in question. Thus deserving praise, recognition and musical fame at the international level.
Drew Blackwell edited by Rory Richardson
[Rating: 4.5/5]