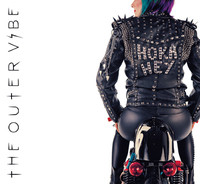 The Band: Nick Hosford (Guitar, Banjo, Lap Steel,)   Sean Zee (Lead Vocals, Percussion) Lisa Kacos (Trumpet, Keyboards, Percussion) Jeff Brems (Drums and Percussion) and Andrew Dornoff   (Bass)
Genera: Alternative Rock, Punk Rock
 
Review: I always listen to the opening track extremely carefully. It's the opening track the band or artists has selected to hit your ears first and foremost. The opening track "Hoka Hey" sets the stage rather well for this CD. It was a great intro piece that stuck in my head and had me eager for what lied ahead. All in all the whole CD is brilliantly delivered with a powerful Pop Rock textures with songs that at times can literally suck you in with serious melodic staying power. Music will remind you of   Muse, The Killers, Maroon 5, Jason Mraz and The Fray. To be honest I can't say enough about this bands overall signature sound. The Outer Vibe present a fresh new voice in modern pop and present a strong message that's inviting as much as it is invigorating.
URL: http://www.theoutervibe.com/
"Hoka Hey" manages to capture lighting in a bottle and is very soulful fronted by lead singer Sean Zee. Each piece is real, not so overly- corporate sounding and very upbeat and fun in nature. The Outer Vibe possess a clean-tight sound that favors the modern Pop-Rock movement but with a old school Rock feel. They will also remind me of a variety of bands from the 80's in the hey day of the Alternative Rock movement like INXS. Heaven 17 and John Foxx. Rock n' Roll and Pop needs more bands like The Outer Vibe immediately.
Favorite Track: Crossroads of Desire, Heart Motor, Whatever You Like
Criticism: None
Check out "Hoka Hey": http://soundcloud.com/search?q%5Bfulltext%5D=the+outer+vibe
Conclusion: If there was one word I would use to describe The Outer Vibe it would be energetic.   This CD will simply make you feel more upbeat and positive and is a real jolt to the senses. In close The Outer Vibe delivers the goods and is one of the hottest rock bands I've heard in quite some time. The have much to offer the listener n so many different ways.
by Mindy McCall edited by Drew Blackwell
[Rating: 5/5]