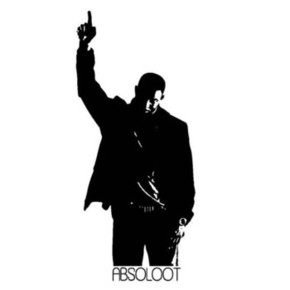 Coming from a generation that watched Rap rise to unparalleled heights as a genre, it saddens me to see what it has become. The bulk of contemporary Hip Hop is an amalgam of clubby tunes with near zero depth, even less originality and Auto-Tune. Lots and lots of Auto-Tune. Gone is the socially charged lyrical matter the likes of Public Enemy and Tupac; instead it has been replaced with subterfuge to sell records that sound like every other record of the same ilk.
With the state of things as they are, a fair question is: "Can Hip Hop survive?"
Absolootly.
[youtube F1FQQxgUx98]
The artist that would become Absoloot, was fostered musically from his earliest childhood. "I was maybe five or six and I can remember sitting in the living room and my parents were playing some of their favorite Jazz songs," he said. "As soon as they played 'Take Five' by Dave Brubeck, I immediately fell in love with the melody. I remember asking them to play that song over and over again. Still to this day every time I play that song it's like hearing it for the first time again."
In his teens, Absoloot started writing lyrics and by the time he was of legal drinking age, he was already learning the intricacies of studio work. "I started going to the studio to get a feel for how things worked and after I recorded my first song, I was hooked," Absoloot said. "The following year I put a studio together with some friends so we could record more often. After recording for a while, a friend recommended that I put together a mix tape. My brother Carl brought some songs I had recorded home for my parents to listen to and after finding they could relate to my music, they started S.O.C. Records and that was the first label I was signed to."
Fast forward to present and Absoloot is beyond an artist coming into his own. Now co-founder and owner of As I Am Records (with Emaculant and other partners) he wears many hats and is immersed in his career as artist and businessman. "We thought it would be best at this point in our careers to have creative control over our projects, that's why we chose the name 'As I Am.'"
Buy: http://www.cdbaby.com/cd/absoloot17
In keeping with the name, Absoloot's latest project is the four-track EP, "Our Voice" and the album lives up to its name. Again, in a world where the bulk of lyrical matter of Hip Hop is dedicated to the self-indulgent; Absoloot's lyrics deal with the here and now in current events. "I feel like as an artist it is my job to be honest with my audience," he said. "Therefore I can't talk about the 'hot topics' [that other rappers talk about] if they don't pertain to me as a person. My music speaks for whom I am as a person so I want my music to mean something to people, to be more than just a good song."
[youtube xpHQHucMBgU]
While Absoloot et al. are enjoying the fruits of their labors, it would seem a favorite facet of his career is his role of philanthropy. Absoloot partnered with ShoMi Entertainment and works with "The Homeless Voice", a periodical dedicated to providing life-saving support for Florida's homeless population. "We started working with 'The Homeless Voice' in March of this year and with everything that is going on in politics right now, I think that people are often forgotten. ShoMi and I agree that words can only do so much without action so our main focus was to help bring awareness to the growing homeless population in South Florida."
A portion of the proceeds from "Our Voice" is dedicated to helping "The Homeless Voice" in its aim to help clothe and feed the indigent. "'Our Voice' was released in June and consists of four tracks that we felt would best benefit the newspaper," he said. "Two of which, are our most popular singles, "99%" and "American Soldier." Even though they were previously released we felt they would best fit the EP because a large part of the homeless population can relate to the message within these songs."
There is something to be said for those that do what they love. It is another thing all together to parlay that ability into the altruistic nature to give to those less fortunate than yourself. Absoloot is doing this very thing and what perhaps weighs even more is the fact that he is simply being whom he is. This isn't contrived or publicity; this is just a man being himself and acting on what he has the ability to do for others. There simply should be more stories like this one.
Currently, Absoloot is working on his next project namely "Banksters" and will be the result of the research he has done on the national Occupy Movements and is in talks of an endorsement deal with Gordon Quatrell Clothing and Apparel Company. For more information on Absoloot, go to his website http://www.reverbnation.com/absoloot & http://twitter.com/Absoloot!
Christopher West – cwestlaz@gmail.com