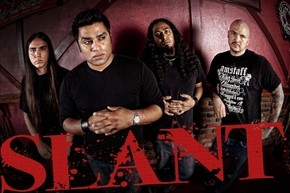 It's an early Saturday afternoon and the day after yet another show. With more music in them than ever, Slant's dance card seems to fill up easily these days with shows booked in multiple venues from the Viper Room and the Whisky in Los Angeles to several venues across New Mexico, Texas and Arizona. The past few months have seen a lot of change for the contemporary rock group. In one of their first interviews since adding new bass player, Dan Liebich, Slant opens up about redefining who they are as musicians, their past and the lessons learned, and what lies in store for the future of Slant.
When Dan and his wife packed up their things, left Germany, and came to America they were utterly alone. Submerged in a country and culture so different from Dan's own, alone takes on a whole new meaning. His passion for playing music however was the one remaining constant. "I was always struggling to be a musician…that was my goal. I wanted to be a musician," Dan explains. "I had all these stupid side jobs next to being a musician, next to school. I was a delivery boy, bouncer, everything. I worked construction, everything just to be a musician which sucked."
[youtube dgYHyTDv38w]
While attending the Musician's Institute, Dan met Slant drummer Jimmy Lee and found himself closer than he'd ever been to fulfilling that dream of being a musician. Slant needed a new bass player, Dan was the perfect fit, and the rest you could say is history. Dan's assimilation into the group was seemingly effortless and eerily natural. The desire to mold his place among the other members and create great rock music surpassed any and all cultural differences. "I like their work attitude…they're a really professional band. I like to hang out with them. They're like real friends, not just musician friends, but like real friends."
And the feeling is mutual. Munir shares his feelings of appreciation for Dan's presence in the group. "Dan recently just joined and getting to know him and becoming one of our best friends- that has been a great, great band moment. I consider him one of my best friends."
[youtube hZX2CKlmQnE]
While Dan struggled in his life to play music, Jimmy Lee struggled to simply stay in school. "My life wasn't easy," the drummer admits. "My mom raised me and my brother on her own. I was just a trouble maker. I got kicked out of like middle school, my high school, my elementary school. I got really depressed in the beginning of high school. I didn't really have any friends to hang out with. I had really no one."
Then Jimmy discovered drums and a new, creative way to express himself. "I was like oh, I really like this. And I just played drums. I wouldn't even go to lunch. I would just go straight to the drum practice room and that really helped me mentally. I would play and play and get the cops called on me for noise. Music has helped me through a lot of my life."
For Slant guitarist, Munir Haque, the feeling of being alone, even with a full support system behind him, was an all too familiar feeling. "It's an interesting feeling when you're around all these people and you feel like you're the only one there. The household I grew up in was really cool. I had a lot of family support. And I was always around a lot of friends, good friends, still my friends to this day. But even being surrounded by a lot of people I care about and they care about me, I somehow seemed to get lost. I, for awhile, completely lost who I was. I almost became completely numb, had just no feeling at all…feeling completely alone, and it's a scary feeling."
Yet music was there to guide him through even his darkest hours. "I would come here and would write music. We would jam out, we play shows and through that, I was able to start finding myself again and start feeling and it gave me something to hold on to."
Lead singer and guitarist of Slant, Fahim Zaman's, struggles started at an early age with the tragic passing of his father. "My dad passed away when I was seven and it was me, my sisters and my mom who was basically playing both roles. I got really bitter about it. I don't know how it feels to have a dad, so I kind of closed up. I started ditching school, smoking, drinking- just doing bad things just to try to find a relief basically."
And like the rest of his band mates, music was that missing piece that gave new meaning to his life. "…writing music, playing music helps a lot because that's my relief now. I get to express myself fully and you find people that can relate to it and you find people that are okay with it. That helps me work out my problems."
For Dan, music has not only been something he's wanted to be a part of for nearly his entire life, it's also the one thing that helped him control his anger. "You just have to listen to meaningful music and know that you're not alone. You feel immediately 'I can totally relate to that'. If you listen to meaningful music, you know that you're not alone. And that helped me a lot too. I was an angry kid. I listened to hardcore a lot…that helped me with the anger."
Those all consuming, often times drowning, feelings of being alone and angry, lost and numb are feelings nearly everyone can identify with. "A lot of things we go through are not just us, it's a lot of people who go through very similar almost exact same things," Munir reflects. "And when you're going through it, you feel like you're alone, you feel like you're the only person. But it's very important to find some type of outlet, something to hold on to and know you're not alone."
And like so many others who feel hopelessly trapped and know no other way than to run away from their problems, Fahim shares a page from his history and the painful chapters he has long since closed. "You don't always have to run away. My thing with the whole drugs, alcohol, and cigarettes…it was always me trying to get out of my situation that I was stuck in. I found out that instead of doing all those detrimental things, if you find a voice, find a better outlet that's healthier…it helps ten fold. You'll find that you're not the only one dealing with stuff and on top of that, people will be there for you and people will want to help you through things.
Simply put, Munir adds, "It's okay to ask someone to help you become strong."
Luckily for Slant they have each other to turn to for that strength. Not only do they share a common passion and drive to create meaningful music, they also have each other to lean on. Jimmy captures the group's sentiment when he says, "I think we're each other's best friend. If somebody's going through something, we all fix it."
Since the original formation of Slant, members have been lost and members have been added but one thing they haven't lost is the need and desire to help people through their music. Creating music and receiving an overwhelmingly positive response to that creation is an emotional experience, especially for Munir. "I don't even know the words to describe it, when someone comes up to you and says 'Broken Wings' did this for me or got me through this…it's kind of a choked up feeling 'cause a lot of times they're genuinely going through something. And something we harnessed our emotions into helped them get through something. It's a really good feeling."
So what's next for Slant? Plenty.
Their eight track EP "Wasted" is available now on cdbaby.com and iTunes. Also look for it in the next few weeks on Amazon. The nearly tangible emotion in Fahim's voice combined with the band's ability to literally put everything they have into each track makes for an EP filled with intensity and passion that will surely entertain, excite, and inspire.   Their evolution as a band can only be contributed to their all encompassing dedication to each other, their music, and the honesty behind their music.
And with three remixes individually produced by MostArt, Brad Dujmovic, and Sam Vahedi, expect to hear Slant as you've never heard them before. Literally.
And last but certainly not least, look out for Slant's "slant" on Ozzy Osbourne's classic "No More Tears" as part of Versailles Records' 30 year tribute album to Ozzy Osbourne and Black Sabbath.  
While most bands have a harder time staying together than a celebrity marriage, Fahim as well as the entire group truly appreciate the gift they've been given. "We're very lucky to have found each other and to be able to make music together."
Visit www.slantmusic.net for everything Slant.
Keldine Hull – keldinehull@gmail.com