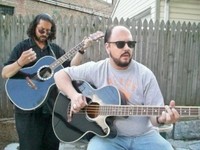 The group Class Reunion is made up of just two musicians: lead songwriter, co-founder and co-president of Class Records Mark L. Sanchez aka Shaggy Docious & lyricist, co-founder and co-president of Class Records Jonathan A. Demas aka JAD.   Shaggy D and JAD share duties of vocals, guitars, bass, and drums/percussion while Jonathan also plays harmonica on the new album 'Music Nation'.   These two men have an interesting history where they actually met in high school back in the early 80s and jumping ahead 25 years later JAD & Shaggy Docious meet up and decide to form a musical duo.   How cool is that and hence the band name Class Reunion, so there you have it!
http://www.youtube.com/watch?v=M8zS1QlNNe4
Now let's get into this new release called 'Music Nation' that features 18 songs.   I really liked how it started up with the opening track, "Just Diddlin' (acoustic version)" where you hear nothing but guitar, drums & percussion.   This song flowed well and I have to say I wish more artists would kick things off with a solid, acoustic number because I simply love that!   Going into the next installment titled "Day (acoustic version)" I pick up on a classic 60s-ish vibe where JAD & Shaggy definitely possess that folky rock, old-school charm.   This worked nicely here and the garage band effect really added to its appeal.   After track 2 things start to get interesting to the point where I am a little lost.   Throughout the remainder of the songs I experience confusing rhythms & mixing to go along with off-balance tempos and material that just seems to be bouncing all over the place with no set path.   I also picked up on some pitchy singing, out of tune guitars and arrangements that didn't seem to fit or work for me.   The production/sound quality came across as warped & distorted at times due to major experimenting in the areas of mixing & mastering.   I do have to say that I highly enjoyed the song "Silly Jibaro Love Song (acoustic version)" as this was my favorite on 'Music Nation' for the simple fact that it worked on all levels and just sounded good to the naked ear.   And going off of that, it does seem that Class Reunion's strengths lie within the acoustic realm after hearing this record in full.   So…I HIGHLY recommend going back to the drawing boards and put together an all-acoustic album with no frills, no surprises and no interruptions.   I would also work on the direction of the record and figure out exactly where you're going and then just run with it!
I do believe that if you work out some kinks and polish it up a bit that Class Reunion has the ability to make a high-quality recording to be enjoyed by many.   I do love the fact that JAD and Shaggy Docious are having a blast playing together as you definitely sense this on 'Music Nation'.   That's special and really the first step toward becoming a band, forming a sound and building an audience so don't lose that magic Class Reunion.   Without the fun there really is no point in creating lyrics and then songs because at that point the music is already dead.   So I commend you gentlemen for holding onto that simple rule that I think could either make or break an artist or band.   I don't think we've heard the last from JAD and Shaggy D as I believe that the next Class Reunion will be even sweeter!   For more info on this duo based in Chicago SKOPE out www.classreunion.biz – – http://reverbnation.com/classreunion.
By Jimmy Rae (jrae@skopemag.com)