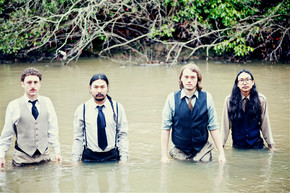 Triple Crown Records is pleased to announce the release of Basement Window the new EP from O'Brother. The EP is a bit of a sonic departure for the band, stripping down and re-arranging a few of their favorites from their debut full length Garden Window.
Vocalist Tanner Merritt explains "It's a lot of fun to strip a song down to its very core and see how it holds its own based upon sheer songwriting. With so much volume and layering it's very easy to lose those things. It's fun and challenging to take a song and mold it in to something completely different. Give it a new tone and demeanor. That's what our intention was with this EP, to (hopefully) allow ourselves and others to see these songs in a different light."
[youtube yPTDC0rJYFE]
Basement Window will be released digitally September 18th and include a bonus track not on the vinyl release. Vinyl will be released October 30th. The limited vinyl release is a special pressing, 1 side audio and 1 side etched artwork.