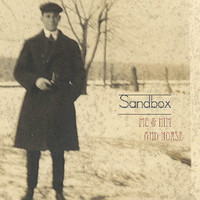 About the Artist: This is the latest release from Los Angeles based 7 member Alternative Rock band "Sandbox."   Band members include: Kaitlin Wolfberg and Morgan Paros (Violins), Dayna Richards (horns), Laureen Brown (Tap), Cooper Cowgill and Adam Hull (Marching Drums), Shane Sweet plays all other instrumentation and is the primary vocalist.
Review: What does a band like Radiohead, The Young Veins and   Patrick Stump have that Sandbox don't have? Not much if you ask me save the multi million dollar promotional machines and major record label support. In this overly saturated genera/market a plethora of artists coming out of the woodwork, armed with nothing more than a PC, Microphone, a guitar and nothing special to offer. They manage push their music out to the masses and much of it is substandard to say the least. Sandbox are the perfect band name for these 7. It defiantly has an Indie-Rock swagger to it with a deep seeded earthy-Folk aftertaste. Musical overtones that will remind you of acts from Radiohead, The Young Veins and   Patrick Stump. But on the other end of the sonic spectrum I can even Neil young, Fleetwood Mac and even acoustic Pink Floyd. Musical styles presented: Folk, Alternative Coffee House Alternative Rock e Rock. All in all a well-rounded CD that has much to offer the listener.
My Top 3 tracks "Puzzles in the Pavement, Streetlights, Doesn't Really Matter.
Song Samples from the CD: Available on AMAZON – http://www.amazon.com/Me-Him-and-Horse/dp/B007R9JG6G
Conclusion: Me & Him and Horse buy Sandbox stands out from other Indie-Alt Bands within this saturated market. Their answer to mundane music is to deliver something unique with a superlative signature sound to call their own. The strong suit of Sandbox are their passion, solid musicianship and thought provoking melodies. One would be wise to keep a watchful eye on Shane Sweet and these cats over the years to come.
Rory Richardson
[Rating: 4./5]