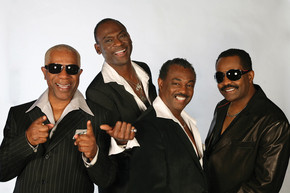 On Saturday, August   11th at Hoosier Park Racing & Casino in Anderson, Indiana I got the chance to see two incredible music acts that you may have heard of: Kool & The Gang and Commodores.   Both groups have been going strong for over four decades playing to countless fans from all over the world.   So just think about this; that's over 80 years of history/experience between the two bands which is just CRAZY & AMAZING all at once!   My guest and I were seeing Kool & The Gang and Commodores for the first time and we both felt like this would be a night to remember.
[youtube 3GwjfUFyY6M]
First up were the mighty Commodores who came to play and "tear the roof off the sucker".   The Commodores came complete with two original members, Walter "Clyde" Orange on vocals and drums & William "WAK" King on trumpet, rhythm guitar and synthesizer, former Heatwave singer J.D. Nicholas and one terrific backing band.   The energy was off the charts as the Commodores showed no signs of slowing down.   They played many of the hits such as: "Machine Gun" (featured on the films "Boogie Nights" and "Looking for Mr. Goodbar"), "Nightshift", "Three Times a Lady", "Too Hot ta Trot" and of course the fan-favorite, iconic song "Brick House".   I was especially happy to hear two of my all-time favorite songs: "Easy" and "Lady (You Bring Me Up)".   The entire group looked and sounded great and the mighty, mighty Commodores are as funky & soulful as ever.   Their overall performance impressed the hell out of me and I now have so much more respect for this influential band that was originally formed in Tuskegee, Alabama under the name the Mystics.   The rest is history!
[youtube -5EmnQp3V48]
Speaking in terms of highly influential bands, I now give to you the one & only Kool & The Gang.   Four original members still play on and grace the stages after all these years and they are: brothers Robert "Kool" Bell on bass & Ronald Bell aka Khalis Bayyan on tenor sax, George Brown on drums and Dennis Thomas on alto sax.   Along with the core 4, Kool adds one talented Gang to the whole mix with top-notch musicians filling in nicely.   Formerly the Jazziacs out of Jersey City, New Jersey to Kool & The Flames in '67 before finally settling on Kool & The Gang in 1969, this group is so funky fresh!   Kool & The Gang has sold over 70 million records worldwide and there is a reason why.   Blending funk, jazz, soul, disco, boogie, dance-pop and R&B in such a "Kool" fashion and making it all work is the answer.   Kool & The Gang did not disappoint at Hoosier Park Racing & Casino as they performed many of their hit songs.   Such hits included: "Too Hot", "Cherish", "Emergency", "Joanna" (very nicely done), "Get Down On It" (my girlfriend's favorite Kool & The Gang song), "Ladies' Night" (can't but help think of John Lovitz in "The Wedding Singer") and you can't forget the memorable "Jungle Boogie".   I was so pumped to hear my favorite "Hollywood Swinging" ("Hey, hey, hey…What ya got to say?") and an awesome conclusion that made the entire audience feel good about life in a thing called "Celebration".   My only disappointment was that they didn't play: "Open Sesame", "Funky Stuff" and "Spirit of the Boogie" because I think those would have been perfect songs to perform live.   But what are you gonna do…can't play 'em all!   Still a fantastic set & show Kool & The Gang put on and I have to say that they sound Kooler than ever!  
I, along with my guest and everyone else that was there that night just had so much fun to the point where you could literally feel it in the air.   The atmosphere was lively, happy and jumpin' with hundreds of people singing along and gettin' down like there was no tomorrow.   Kool & The Gang and the Commodores wanted each and every person to have a blast and enjoy themselves on a pleasant Saturday night at Hoosier Park.   They wouldn't have had it any other way and that's what makes them great performers with staying power.   Now it's time to get Kool & The Gang and Commodores into the Rock and Roll Hall of Fame once and for all–who's with me?
By Jimmy Rae (jrae@skopemag.com)