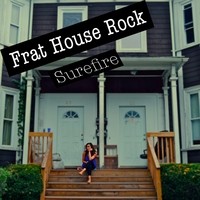 Mike Leone, Peter Hung, Kevin Dallaire and Cymbals Suarez joined forces to create a new band, "Surefire". They have already hit some well known venues in the Boston area such as BU Central, Hennessy Hooley's House, and Wellesly College. They're collecting a hard core fan base who are anxiously willing to let their hair down and enjoy some rock 'n roll.
Formed less than a year ago, the band is heating things up and melting faces with their latest single, "Frat House Rock". They released their first full length CD called, Another Take On The Same Difference in 2011 and have been   proving their serious musical skills with fun party songs ever since.
Following in the foot steps of the bands before them they have a reminiscent sound of Green Day and Weezer. Fully equipped with steady grinding guitars, earth shattering drums and angst filled vocals. When the music comes alive and spills out of the speakers images of mosh pits start to dance in one's head.
"Frat House Rock" MP3:
http://k003.kiwi6.com/hotlink/2gvp7jpw1r/frat_house_rock.mp3
It is refreshing to listen to a band that shakes off the serious overtones and is poised to entertain us. There is nothing more cathartic than good times and lots of laughter. "Surefire" is a surefire way to forget your woes and let it all hang out. They are only starting their climb to success but have already come a long way in a short time. I intend to follow their journey every step of the way. What's next for these guys? The sky is the limit.
http://facebook.com/surefirerox
Rebecca Hosking – hoskingrebecca@gmail.com
[Rating: 5/5]