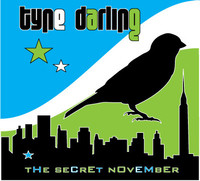 There are those of us deeply affected by our environments, whether that is   geographically or atmospherically; our surroundings can sometimes be quite the efficient muse. So seems to be the inspiration behind Tyne Darling's latest album, The Secret November–12-tracks of emotive lyrical matter tracing a path from coast to coast and rendering a documentation of life on the road through the eyes of one songwriter.
[youtube O4D7GL2yc3o]
The musical odyssey begins with "L.E.S.",   homage to New York's Lower East Side. The track features jangle electric and backing horns before Darling's gruff rasp croons at the foreground. The down tempo ethos and allegorical lyrical matter reflects what one imagines a cold Northeast November looks and feels like. The jangle electric and musical map of New York continues with "The Highline" and its shout out to the Chelsea park of the same name. Americana/slight Country facets shine in this slow rocker with bent note guitar work being bolstered by backing organs in what could easily be a Ryan Adams or Jeff Tweedy song. "Maybelline" recalls Darling's trek from Idaho to a Seattle show, lyrically painting a picture of the Northwest landscape along the way. The melodic acoustic strums and electric meld into one harmony with the occasional addition   of backing brass drone. This is Darling arguably at his most lyrically contemplative. "Punk Rock Girls" was born out of conversation at SXSW and became an electric ballad track that recounts interactions with the song's namesake. More bent note electric leads the way through this down tempo, blues-tinged track. "Violet" highlights Darling's technical tightness in his songwriting. The tandem acoustic picking and electric notes create the opening melody before surrendering to the rasp vocal delivery, which finally culminates with a harmonized crescendo at the soaring chorus. Again, the emotive and allegorical nature of the lyrics is the hallmark on this one.
For a writer with serious leanings to the Americana and Alt Country genres, I knew I was going to like this. What I didn't account for is just how special and "something else" these 12-tracks are. No, Darling isn't the first artist to trek out from one vein of music to pursue another. And no, he isn't the first artist to be inspired by time spent on the road. What he is though is a purveyor of good, honest music and simply put that will always garner the respect and admiration of this writer. I feel Darling has found the niche that he belongs in and if logging miles from one show to another can render this; then I say keep gigging and traveling.
http://tynedarling.bandcamp.com/album/the-secret-november      
by Chris West – cwestlaz@gmail.com
[Rating: 4/5]