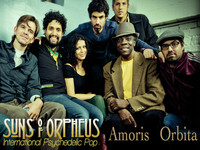 World music conglomerate Suns of Orpheus have been moving and shaking (both literally and figuratively) in Austin since last year when they recorded their debut EP having NEVER played a live show. Recently, they saw their hometown honor their musical endeavors with a special gift all of their own–August 23rd will not only serve as the official release date of their first full-length, Amoris Orbita; but will forever forward be known as "Frederico & Suns of Orpheus Day."
The 10-track album is a cornucopian endeavor of musical styles, genres and instrumentation and no review in the world would ever be comprehensive enough to touch on them all. Just trust me when I say this thing is simply brimming with Latin, African and Reggae sentimentality; laced with rock, electronica and psychedelic elements; all piped through Tropicalia and traditional instrumentation alongside multilingual lyrics (And…that may be the longest sentence I've ever written).
[youtube LEkWAX7lq3o]
"Agua de Coco" gives the listener the first taste of eclectic this album brings with a psychedelic groove melody, ELO style keyboard blips and funk wah guitar and keys. The harmonized Portuguese lyrics ride tandem with effects-laden English verse work making this one a funk-fueled, Latin-spiced head bobber. "Amoris Orbita" opens to more funk groove at mid-tempo pace, but belies the underlying message of Frederico Geib's testament adoration for his two young daughters. One need not understand Portuguese to recognize the positive love story conveyed by the earnest vocal delivery. Again, this is spiked with a myriad of standard Latin instrumentation and the slight psychedelic keys that ever loom just below the surface of the track. Distorted electric takes the lead on "Deseo Mayor" over the various backing Tropicalia percussion, funk keys and almost Latin rap style vocal delivery. The tempo and lyrics of this one beckon you out of your seat (I dare anyone to listen to this one and stay completely still). The Reggae-spiked vocals of "Encanto" are bolstered by acoustic strums in what can only be described as a Latin Pop dance track through to the midpoint guitar reminiscent of Carlos Santana's trademark soaring solos. "Tree of Love" with its down tempo melodic opening, gives way to upbeat groover with almost Reggae time signature at the chorus complete with heavy electric lead through to the outro.
And as predicted, I failed in conveying the vast scope of this album in one review. The sheer amount of musicality at Suns of Orpheus' disposal is simply…incredible. But more importantly, their knowledge and execution of the myriad of genres they employ makes the marriage of so many styles of music within the tracks appropriate and deliberate; not kitschy and as some attempt to cram as many styles in as possible. These songs ARE supposed to contain so many elements. It's not only the signature of each individual track; but also the ethos of the entire album.
This is just fun music, equal parts groovy funk and fiery Latin, with good lyrical matter and the instrumentation cranked up to "muito." But perhaps most importantly, what this is is exposure of the average listener to something typically far beyond the scope of the daily playlists in their iPods. This is Buena Vista Social Club, just ramped up, contemporary and expounded upon.        
www.reverbnation.com/sunsoforpheus                    
by Chris West – cwestlaz@gmail.com
[RatingL 4/5]