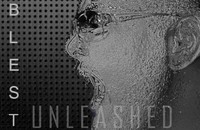 Most would agree most popular artists out there have something truly special to give to their fans. This goes above the typical attributes like raw talent, amazing songs, nice voice, or even a very marketable look, sound & image. There's something truly infectious at the core of these artists that simply makes us feel good when we listen to them. Whatever "it" is — they all seem to have "it".
About the Artist: Today I listened to the latest CD from Texas based Rapper Blest (Adolfo Ochoa). Venturing to the Internet I get the impression this guy is a diamond in the rough in South Texas and is making quite a name for himself regionally and internationally via his own unique signature sound and passionate messages. He has received much in the way of critical acclaim from music critic everywhere. Selling over 2,000 units and selling over 4,000 downloads through major online retailers, the years of work were finally starting to pay off. This latest Mixtape is just a testament to all the hard work it takes when you're an up and coming artist.
Review: From start to finish this MIXTAPE from Blest is a very entertaining and very diversified musical statement from start to finish. It covers a lot of ground with many Rap, Hip Hop flavors. Any fans of any of these many musical styles will enjoy this latest release from Blest. It's clearly marketed for those who like the male fronted rap persona of say classic Outkast, Nas, Jay-Z, Tupac, and even a splash of Cypress Hill. Blest holds his own behind the microphone, and is an impressive performer. The plethora of musical professionals he brings to the table (Producers and Performers) only adds fuel to the fire. This along with his marketable flair and impressive performances make for a deadly combination via this fully loaded Mix Tape.   Blest is clearly being himself as an artist. In close Blest is one rapper that can be powerful yet positive all at the same time. All pieces have an amazing feel and solid production value delivering thick low end groove and crystal clear high end clarity. The sampling and production touches are rock solid and just makes the whole CD enjoyable. All in all one of the best MIVTAPE productions I've heard this year.  
Conclusion: Again I see Blest as a strong contender with his infectious persona, silky rap flow and amazing signature voice. This latest release showcases some hot tracks no doubt. Each one marketable with their own right. If the masses tap into Blest it could be like pouring gasoline on a fire. As time goes by he will no doubt see what happens, but in the mean time it's nice to know in this saturated market of music there is one rapper out there who remains true to himself. In close most famous artists out there have "it" I'm not so sure what it but Blest definitely has whatever "it" may be.
Michael Morrison edited by Cyrus Rhodes of IMD Media Group
(UK) West Lothian, Scotland
URL – http://www.iamkaotik.com
[Rating: 3.5/5]