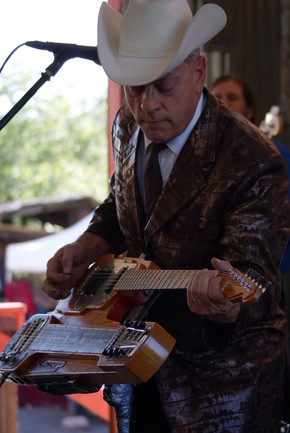 About the time that country icon Junior Brown was making the rounds of jam festivals, including the huge the 10,000 Lakes Festival in Detroit Lakes MN, he made his first appearance at a cozy little event in Madrid, New Mexico, called the Crawdaddy Blues Fest. I saw him at both festivals (10KLF back in 2009 and Crawdaddy this year). Neither event seemed like an exact fit for Brown, but it didn't matter. He was making new fans and he always blew audiences away.
Brown was the second country act to stride across a 10KLF stage. Shooter Jennings, son of the late country icon Waylon Jennings, put his swagger into some very hip country/rock there in 2006. But Shooter has always walked the edge between country and rock, wailing out lyrics about cocaine and women that many a country performer would shy away from.
Junior Brown, however, has a handle on pure country, particularly classic country styles of the 50s and 60s. If you listen closely to the few vocals he does, you'll hear a very definite Ernest Tubb quality, captured in tone and phrasing. His songs deal less with cheating and drinking and more with absurd characters with an occasional love ballad thrown in.
"There are a lot of things I don't write, that I won't write about," Brown admitted in a phone interview. "So that just leaves mainly humor. I wrote a lot of songs with sort of funny stories to them."
[youtube jonJu6-XpWU]
Those songs have titles like "My Wife Thinks You're Dead," "Venom Wearing Denim," "Two Rons Don't Make It Right," "Ain't Gonna Work Today," and "It Hurts When I Do That."   But then Brown can pen an upbeat nostalgic song about being country, like "Catfish and Collard Greens" that makes us all smile.
His most famous recording, "Highway Patrol," wasn't written by him, but by Red Simpson. "A lot of people think I did because I made it my own, and it's so much my style," Brown said.
Brown's biggest appeal, however, isn't his lyrics or his vocals. At jam fests like 10KLF, he always stirs a lot of musician envy when he brings out his signature guit-steel, a two-necked contraption built by Michael Stevens that combines a standard six-string guitar with a steel guitar, both of which are amplified. There are plenty of double necked guitars on the market, but nobody has a guit-steel but Junior Brown.
He said that having it made eliminated the need to decide which guitar to use on which song and allowed him to play both guitar styles during a single tune. The result is pure genius.
Back in 2009, Michael Stevens was working on a new one that had pedals. That was the one Brown brought to the Crawdaddy Blues Fest and wowed audiences with.
Brown wrangles that guitar invention like no two guitarists ever could. He can dip into high-speed renditions of old chestnuts like "Sugarfoot Rag" and then offer a medley of classic rock tunes that would make Hendrix and Clapton weep or slip into a ménage of surf tunes. And his audiences love it.
"They like the variety, being surprised by things I guess," he said. "That guitar helps you do that and pull out old songs that they recognize."
[youtube rtvT_hOC80A]
Ironically, this A-list country artist didn't come from Appalachia, but was born in Arizona, spent his yearly years in Santa Fe, lived on the East Coast, and finally came to rest in Austin TX. Equally, ironic, Jamieson "Junior" Brown wasn't raised on country with a family that played banjo on the pickin' porch. His parents were classical musicians. His father was a professor of music at St. John's College in Santa Fe and felt that the early country music of the 50s and 60s was really folk music and much more acceptable than the emerging, irreverent new music–rock and roll.  
Country, rock, and blues audiences are very glad Junior Brown honed his chops on Chet Atkins and other guitar wizards of the time. And today's festival audiences are soaking up every note.
Find out more about Junior Brown, his recordings, and his intensive tour schedule here:
http://www.juniorbrown.com
Janie Franz – janie_58201@yahoo.com