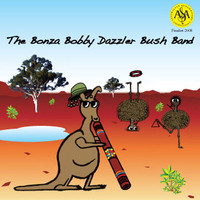 Children's music has to go on the list of genres I have not done much with. Not having children of my own makes tackling an album from this genre a difficult task at best. But when it comes to Australian artist Glen Naylor, she makes a rather difficult genre easy to write about with her latest album, The Bonza Bobby Dazzler Bush Band.
The album opens to the title track and features strum acoustic and banjo. Lyrically, the track is homage to all things Australia with indigenous animals coming together to play in an all-wildlife band. As the album plays out, Australian phrases are incorporated within the verses in what is an upbeat toe-tapper. "Rock and Rolling Nana" is set to a swing tempo with backing piano tinkles and saxophone honks. Again, the ethos of this track is just a continuation of good, fun musicality with humor-spiked lyrics. "Alf the Zebra" is a down tempo number with slight brush snare, backing piano and acoustic notes. This track bops along with more child-friendly lyrical matter. "Dancing On A Toadstool" is a loungy Jazz number with more acoustic and piano. Again, the lyrical matter paints a picture of a myriad of flora and fauna, not only entertaining through the music but also teaching through verse.
Purchase the music of Naylor / Wilson!
The Bonza Bobby Dazzler Bush Band – Children/Family- www.cdbaby.com/cd/thebonzabobbydazzlerbush
Wrap Your Arms Around Our Mates – Victorian Bushfire Tribute- www.cdbaby.com/cd/glennaylor
Where the Willows Weep – Mix/Jazz Ballads R&B Country – www.cdbaby.com/cd/wherethewillowsweep
Again, I don't know much about children's music, but I do know when I hear an artist with their intentions in the right place. Not only is this good, clean entertainment for child listeners, but it is also a celebration of Naylor's Australian heritage. Hats off to someone like her who does what she does out of love and the interest in helping shape our future.
http://www.bonzabobbydazzler.com
by Chris West – cwestlaz@gmail.com
[Rating: 3.5/5]