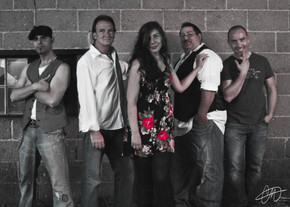 Often the raison d'etre for band breakups seems to get chalked up to creative differences. Such was the case when the popular New England Blues outfit, Big Ugly dissolved and saw the founding members plodding off into different directions. Undeterred, Dominick Mauro began collaboration with guitarist Tom Forst.
"We disbanded because it really wasn't going the direction I wanted it to go," Dom said. "We were more Blues-oriented, but I was staring to get pulled more towards Americana and Country and the guitarist was getting pulled more toward hard Rock. We decided we were going to go on with Big Ugly and just substitute our old guitar player. So Tom came down and tried out, but we just decided to disband and Tom and I started doing out own stuff."
[youtube WiV4SFtuOTs]
After walking away from the Blues outfit, Dominick began to record some original material and said initially: "It was all over the place" but soon after the duo found a rhyme and a reason and set out to write songs that were "different, but familiar." They played around with a myriad of genres from a return to the Blues to Jazz and even experiments with Hard Rock. But Dominick and Tom discovered a foundation with they set out to expand their membership. "I think we found our niche when we added Ryan," he said.
Eventually, Dominick et al. reached out to his former Big Ugly drummer, Mike G. and the fledgling group was now a full band. However, something was still itching with   Dominick. "I felt liked there was still something missing," he said. "I felt like we needed another lead singer. I wanted to bring in someone who could be a complement to me and I wanted someone who could take the band further with their own sound and it not just being mine."
[youtube ORoe-sMwjXI]
The quartet played several shows as they were and while Dominick was pleased with what he had surrounded himself with, the itch to find another vocalist was ever-present. Finally in the summer of 2010, they chose female lead Maria Soaft. "She brings a positive dynamic, especially for us, for a couple of reasons," said Dominick. "One thing is she's really young in comparison to the rest of us who have been kicking around in bands for some time. She brings a totally fresh outlook on things, everything is new to her. Also, she has a great voice and is really becoming a force vocally, but another big thing is the ability for us to help her become something she didn't even know she could be."
That fall, the band entered the studio and began working on and recording their debut album, Believe. The album had strong Americana and classic Rock leanings the likes of "Don't Forget Me", "Colors" and "Sitting On Top of The World." Dominick admits the initial studio experience was one of flux. "When we got into the studio our producer told us: 'You guys may be onto something here so make sure you take the right amount of time with the songs and get them perfect,'" he said. "So a lot of the songs were switched around and approached from different ways and a lot of the album was also written in the studio. I think about halfway through we figured out our niche."
Forgotten By Friday are currently playing throughout New England and New York at venues and festivals and are working on a follow-up album about which Dominick said: "I think this time around we are going for more of a laid-back and Alt Country sound for the album."
By: Christopher West – cwestlaz@gmail.com