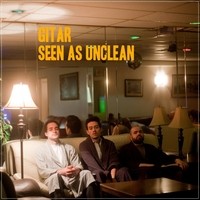 As a genre, I posit that "Indie" can mean a myriad of things. It could mean "independent of a major label" or actually "on an Indie label." But I think the term can equally mean independent of BEING labeled. Such is the case with Gitar and their new 12-track LP Seen As Unclean. With diverse genre borrowing the likes of Tropicalia, Bossa Nova and Ventures-style Surf Rock, Gitar has created an album that defies pigeonholing and effortlessly marries styles and elements into one cohesive sound with mass appeal.
[youtube aVoKR3d1rWk]
"Theme From Gitar" opens with sharp horn blasts and bent note Dick Dale Surf strumming melded with Cubano-Latin sensibility and the slightest of backing percussion. The brevity of the track belies the clever blending of the two musical styles and foreshadows the genre muddling to come. "Mr. Tourist" shows the past Hip Hop leanings of Mikhail Galkin as DJ Alibi. The Rap-like chorus is laid over lead synth along with other mysterious clicks and clanks as fills. Tai Lee's Punk leanings enter the fold on the agro track "Different Fathers." The driving guitar moves through a distorted progression through to the full Punk chorus. Weighing in at 1:13, it is the shortest song on the album. Distorted Blues riff work meets chugging percussion with slight Rap lyrical delivery on "Get Low." The track is reminiscent of vintage Black Keys with gobs of bent note electric solo work. Jangle guitar work opens "Hi Tension" with a vocal delivery reminiscent of Nick Cave. The pop sentiment mixed with the lower octave vocals and strange electronic chirps make this track eerily catchy. Finally, "Soaking Soul" sees lounge style crooning over a simple backing melody and Tropicalia bongos and shaker keeping time. Simple electric chords serve as melody fills in this boppy album outro.
Seen As Unclean deserves merits based on album diversity alone, but beyond the myriad of styles and genres, they don't sound contrived or forced. The melding of "this" with "that" seems to come naturally to Galkin and Lee and they approach their particular style of album making not with reckless abandon; but with a clear nod to due diligence. Despite being more than difficult to classify into any camp or genre, I like this album because it has the capacity to wax and wane in tempo, style and genre. Hell, even the weird moments are cool.
http://gitar.bandcamp.com/album/seen-as-unclean                  
by Chris West – cwestlaz@gmail.com
[Rating: 3.5/5]