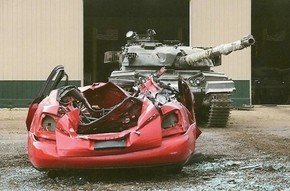 The Tribe & Big Cats! release the official video for "DMT Flow" today.   The video, directed by Isaac Gale and David Jensen, follows TruthBeTold riding around in a military tank, yup a tank, take that.  
[youtube lznYsCyPZfs]
TruthBeTold describes the experience by saying, "You never really know how badass you are until you drive a tank."   This is the second official video off of the duo's most recent album Space, which is currently available for free download via the group's SoundCloud page.   The next chance to catch TTxBC live will be 8/7 when they open for Chiddy Bang at Mill City Nights.