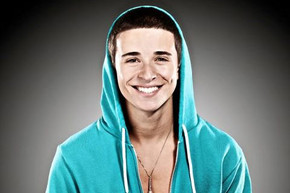 19-year-old rapper, singer, and songwriter Jake Miller recently unveiled the official video for his summer-ready new single, "Runnin."The clip focuses on Jake's struggle to win the approval of his girlfriend's dad, and also features an eye-catching, green convertible Mustang. It was directed and produced by Mu2 Productions, the same team that has helmed Jake's previous videos for "What I Wouldn't Give" and "I'm Alright."   The video for "Runnin" is featured on MTV.com's Buzzworthy Blog.
[youtube NcallqndDnI]
"Runnin" was written by Jake himself and produced by The Fliptones (Jason Derulo, Britney Spears, Flo-Rida), and will be available on iTunes soon. Keep an eye out for Jake's upcoming debut album, and visit his official site, Facebook, and Twitter for all of the latest news.