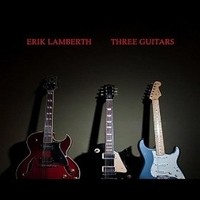 About the Artist: This is Lamberth's latest release entitled "Three Guitars" released in 2011 and certainly does not disappoint. Venture to the internet — it will reveal an amazing musical career thus far for this gunslinger form Philadelphia. A guitarist for nearly 30 years, he has performed with numerous ensembles, including The Haverford College Jazz Ensemble (Guitar and Saxophone) and the Rock 'n Blues Band Roadrunner. He has also played with several ensembles while studying Guitar and Music Production at the Berklee College of Music.
Review: The CD is split up into 2 portions: Blues and Jazz. The opening track "Texas Blues" sets the stage perfectly for this side of the CD. It was a great intro piece that stuck in my head and had me eager for what was ahead. All in all the whole CD (presented as 2 musical themes) is brilliantly delivered with warm musical textures and flowing compositions that covers allot of ground. Musical overtones reminded me a bit of the usual suspects: Pat Metheny, Larry Carlton, Ry Cooder, and many more guitar greats out there I need not mention. There are some fantastic pieces on this CD which gives this musical production a very accessible feel emotionally. Lamberth's guitar playing is brilliant and I would describe his style as musical indulgence with experience. Personally I enjoyed the Jazz songs more than the blues. Lamerth clearly has all the singer/songwriter qualities needed to gravitate a fan base. Favorite piece on the CD is a toss up between "Double Time and 'Mr. PC Blues"
Weakness: It's obvious some of the instruments are sonic and artificial — in a nutshell this is not a real band. It sounds as if he is playing to a Drum-Karaoke machine. This genera is all about capturing the essence of a live performance — so the CD doesn't stack up when compared to other world class guitar-type releases. Lamberth needs to find a few select players out there that are emotionally committed to his cause that can do his music proper justice for both him and his fans.
Song Samples from the CD: All song samples are from Erik Lamberth's Three Guitars available on CD Baby http://www.cdbaby.com/cd/eriklamberth
Conclusion: If there was one word I would use to describe Erik Lamberth it would be devitrified. This CD will simply make your day more delightful, but beware Erik Lamberth is one artists not so easily pinned down comparable to a musical chameleon. The strong suit of Lamberth is the wide latitude of musical depth he carefully navigates you through. It's a musical experience you will return to again and again — picking out thing you may have missed the first time. At the end you will find yourself inspired, invigorated & in a more passionate mood than you were 45 minutes ago.
By: Rory Richardson
[Rating: 2.5/5]