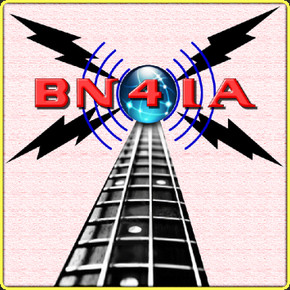 The highly successful indie rock band Cutting Edge continues to be innovative by now offering a place where independent musicians from all over the world can be heard loud & clear 24/7!   Group leader David Pesnell and Cutting Edge have intuitively come up with an ingenious idea that is the Broadcast Network For Indie Artists aka BN4IA.   The brand new network features over 200 terrestrial and five Internet radio stations from around the world!   The network is also being aired all over North and Central America and soon they will be broadcasting to over 200 million subscribers in Europe and the Middle East!  
The best part about BN4IA is that indie artists/bands pay absolutely nothing to have their music receive maximum global exposure.   You just submit your MP3's and if Cutting Edge likes what they hear then you're in; it's that simple!   Of course there are submission rules to follow and some of these include: only Rock, Pop, Dance, R&B and Dance as acceptable genres, absolutely no music with cursing or derogatory language toward any race, religion or sex and all tracks must be under the 4 ½ minute mark.  
You can read about these guidelines and all of the rest right here: http://www.broadcastnetworkforindieartists.com/Submissions/aboutsubmissions.html.  
In addition to the terrestrial and Internet radio stations, one can also pick up the network by way of a KU band receiver.   What that means in layman's terms is that an additional 450 million + listeners from around the globe would have access to BN4IA!   Not to mention there are also cell phone apps that can pick up the station and as long as you have a working computer in front of you and Internet access you can hear the Broadcast Network For Indie Artists anywhere, anytime!
Besides listening to great artists from all walks of life, you will also see that BN4IA offers: live programs, a request line, promotional services, advertising, Music Store and coming August 1 a Music Video Channel.   One of the coolest features on the site is that listeners have complete control over what is getting played on the broadcast network.   It is all based on fan requests as to whether an indie artist or band will receive light, medium, heavy or hot rotation all according to a well-designed points system.
Cutting Edge has come up with something very special that can be enjoyed by music enthusiasts everywhere!   Now it's time to plug in and start requesting your favorite songs and artists start submitting right away because remember it's 100% FREE!  
To learn more about the exciting new BN4IA and all that it has to offer SKOPE out: http://www.broadcastnetworkforindieartists.com/homepage.html#.  
By Jimmy Rae (jrae@skopemag.com)