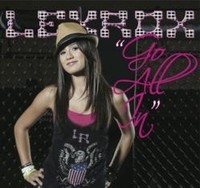 Have you ever wondered how many pop stars it takes to change a light bulb? The answer, in case you are wondering, is that it doesn't matter as there will never be a shortage of pop stars. Of course, being a Pop Star isn't necessarily a bad thing if you are actually capable of delivering something that can reach out and touch someone. Actually Las Vegas based LexRox does just that via her latest single "Go All In" (2012).
 
This is not the first we've heard from LexRox. She began singing around the age of three years old and began performing at age 8. She has countless performances under her belt from multiple school events, talent competitions, corporate dates, and charity events. In 2009, she began her professional stage debut with a performance with Disney star Raven-Symone at the Arizona State Fair. Since then, she has shared the stage with Cody Simpson, Mindless Behavior, Charice, IYAZ, Jackson Guthy, The Carter Twins, and has headlined concerts of her own.
This latest single have much to commend them. Admittedly, there's a whole lot of variety to this arrangement and performance. That's because it has many things working in her favor. First: the lushly layered Production expertise of one 6 time Grammy Nominated Rodney Alejandro. Second: Her sound, look and spirit will no doubt mystify many. Third: His voice possessing a clear as bell vibrato via top flight passion play. Let's be honest for a second — this genera is not known for its amazing vocal performances. But LexRox smashes through that mold with both these singles His voice   has power, raw emotion and a smooth as silk timber. All of the above make for very deadly combination. Even more impressive is the music itself which is commercially viable, delivering a nice modern day dance vibe. I honestly can hear this song on the Radio this Summer. This piece is amazing with a polished sounding production touch via top flight sampling, addictive beats and a thick low end dance groove. I like how the Chorus stays in your head — a trademark of a hit waiting to happen.
"Go All In" is an endearing song from LexRox that is powerful, striking and entertaining. Yes – I could hear this at a party, club or on the radio today. Yes — I could go on all day about this gal. So what are we waiting for? Good question — LexRox that's who.
URL — http://www.lexrox.com/uhboutme.html
SINGLE can be Dowloaded on I-TUNES – http://itunes.apple.com/us/album/go-all-in-ep/id460180173
by Mindy McCall
[Rating: 5/5]