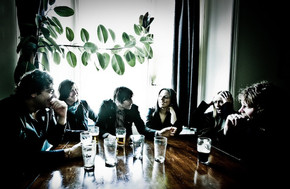 Absent from this side of the Channel for far too long, London/Paris/Brighton-based collective ARCHIVE return with the epic and beautiful With Us Until You're Dead. The album, produced by long-time collaborator Jerome Devoise, will be released on the band's own Dangervisit Records via Cooperative Music on 27th August 2012.
[youtube WcK4n-DqlQI nolink]
Part-orchestral, part-electronic, part-soulful, part-progressive and wholly emotion-soaked and cinematic, the album touches tangents with Massive Attack, Radiohead, The Aloof, UNKLE, Secret Machines and Pink Floyd, with four dynamic singers fronting a restlessly inventive landscape constructed by Archive's long-standing core of Darius Keeler and Danny Griffiths.