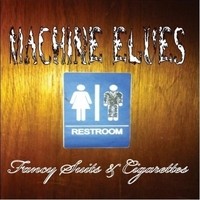 Upon receiving Machine Elves' debut full-length CD "Fancy Suits & Cigarettes", I was shocked to find out that this band has not been signed to a major label. After listening to every track, I assumed that this was the bands choice to remain Independent, as any label to pass on signing them must be completely insane. Either that, or just plain hard of hearing.
Delving into the background of the band, guitarists Frank Fasano and Lou LaRocco along with drummer Tommy Mitchell formed Machine Elves in 2009 in New York City. After several months of auditions, they found their perfect fit at vocals in Joey Calveri. Known for on and off Broadway plays "Rock of Ages" and "Wonderland", Calveri had the perfect voice matched with a charisma the band was looking for in a frontman. In the spring of 2010, they recruited Bassist Howie Blatz to complete the band. They then immediately began to share their new sound with the world.
As far as a genre is concerned, Machine Elves with their wide range of personalities, incorporates that range into their music, giving you a sound that is virtually impossible to pin down to one specific genre. With the release of the debut CD, they offer many different styles and techniques with each track. Songs so diverse and interchanging, yet sticking by the one true mantra that is their core. Rocking the audience and entertaining everyone. Traversing the wide spectrum of styles and sounds, the best I could come up with for a genre is "Blended Rock".
After the intro-track "One Pill For Now" is the self-titled "Machine Elves". A sort of introduction to the show they are about to put on, even incorporating a megaphone at some points in the song, as they do on other tracks as well. As the band states, "a circus-like feel" is the best way to describe it. Rocking with a performance oriented sound, they pulled me right in. Picturing Calveri with a top hat and cane announcing the show I am about to witness.
Calveris voice range through each track had me thinking of a blend of Anthony Keidis and Wes Scantlin with an added element that makes it unique and his own. His showmanship comes through in his vocal range with exuberant energy, that he leaves the listener wanting to be at the live performance. Mixing soft toned harmony with belting emotion and feeling to every song, i envision him as a sure crowd pleaser in live performance.
I found that most of the tracks were very much guitar driven. From winding solid rhythms by Frank Fasano, to the masterful solos and invigorating leads of Lou LaRocco. Both guided me through the many twists and turns of the rollercoaster ride the whole CD took me on. None more so evident as on the tracks "Running Off The Edge" and "Wreck Myself". The solid rhythm and unconventional leads were so drastically different, yet somewhat the same and still true to the core of Machine Elves sound. That may sound contradictory, but I assure you that after listening to this whole CD, you will understand exactly what I mean.
Tying everything together is Tommy Mitchells masterful percussion and the bouncy progressions of Howie Blatz bass. Both of which I felt were best displayed on the hard driven track "Stripper" and the catchy rhythm on "Lullaby". But still evident in every track on the CD, and very much enjoyable to hear. Never overpowering or offset like a lot of the newer bands out there are trying to make a fad. Staying solid and true to what the Machine Elves core sound is, yet mixing in some of their own special abilities showcasing their resounding expertise as well.
The production on the CD was done by Machine Elves and Robert Carpenter. Recorded and mixed by Robert Carpenter at Fraidy Cat Studios. Mastered by Andy Van Dette at Masterdisk. Album artwork and layout was done by Frank Fasano of Machine Elves. All very professionally done. I could tell just by the fine details that they are very meticulous and precise in what they wish to put out there. I was very impressed with their work ethic and passion as a band, and in their music. It shows in every aspect of what Machine Elves set out to accomplish and reach for.
Overall, I found Machine Elves quite entertaining and very diverse. A great combination for a band in the game for the long haul. They seem to possess that "IT" factor that many bands nowadays lack. With so many different elements of showmanship, they are best suited for stages in front of high energy crowds that want a complete show. After watching several videos of their live performances of these songs, they had me ready to book some flights to their next few gigs. With lots of crowd interaction and energy, with their stage presence, Machine Elves are sure to be welcomed in any cities venues.
From beginning to the very end, "Fancy Suits & Cigarettes" is one of those albums that fans of any rock genre can enjoy. Machine Elves will definitely be around for some time and sure to be headlining a world tour in the very near future. I highly recommend this album and will be enjoying it for some time myself.
"Fancy Suits & Cigarettes" is available for purchase on iTunes and Amazon and through the band from their social network sites below.
Machine Elves Facebook: https://www.facebook.com/MachineElvesMusic
Machine Elves ReverbNation:   http://www.reverbnation.com/MachineElves
Machine Elves Myspace:   http://www.myspace.com/machineelvesny
By L.White
[Rating: 3/5]