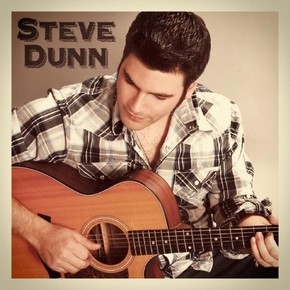 First off I must say that Amazon has never paid me a dime, but I got a Kindle Fire and it is heavenly. I do not need a smart phone as I have a cell thru Skope but this device has made streaming and buying music a breeze. Plus the fact every file is on the Amazon Cloud, my Kindle is not tied down with files. Thank you Jeff Bezos! Now back to my musical guest this week. Like everything in life it takes time to and hard work before you master your craft. Steve Dunn is the perfect example of this as he put out his first album in 2004 and 8 years later I am listening to his new album that I find to be a classic. Steve has found his voice and it shows on such tracks as "The One" & "Can We Go Back." I have not put this album down since I got it in the car, looks like my next dowload in my Kindle Fire. Join us today from New England as Steve talks about the new album, his preferred social media site, the demise of the CD package, and much more!
Stoli: Where are we talking from today and how do you like these rainy Northeast US spring days?
Steve: Today I am home in Connecticut writing and rehearsing for shows.   I like the rain actually.
Stoli: Would you say that when the weather is rainy & cold you are more creative or do you prefer sunny skies to write music?
Steve: Hmm, interesting. I tend to think the rainy days get your thoughts and emotions going a little more. For me songwriting is more of a process of just making notes or recording an idea as soon as you think of it. Final answer…… even some of my sad songs were written on sunny days.
Stoli: Your new album is awesome! How long were you working on that and where did you record?
Steve: Thank you.   This record was recorded during the down time between tours.   The last few years I have been on the road a lot so we did a few days here and a week there and when ever there was time.   This worked out well because I could take demos with me on the road to listen to and think about changes and improvements.   The record was recorded with Ron Zabrocki in Connecticut at his studio.
Stoli: Would you say that you are more focused on digital sales or the physical CD and will there be a music video?
Steve: I am still more focused on physical sales.   For an artist like myself who is still trying to gain a fan base you need to make that connection live and meet the people who are buying your cd.   People have the opportunity to see so many great bands that it is easy to forget who you saw or where to get their music.   Quite often I will even give a few cds out at live shows to people who give you the vibe that they are really into you and will tell a friend.   I think friend referrals are a great way to increase download sales. They may not have seen the show but if someone tells them about the artist, they are more inclined to go and download some tracks to check it out.
[youtube N6f_TGko3Uw nolink]
Stoli: As a big fan of the CD package how do you feel about the fact that this presentation will disappear as we buy music digitally?
Steve:   I think the cd will become more of a business card that will be obtained at live shows. People can throw it in the cd player on the ride home then check out your other material on digital sites ie: iTunes.   The digital process was kind of clunky for a while but now everyone is starting to get the hang of it.   A session player friend of mine in New Orleans, Steve Witschel recently told me how he is becoming more in tune with iTunes and he said, "it reminds him of going to record stores when he was a kid and thumbing through all types of music and seeing new records."   I hope that everyone will continue to learn about digital and find new music using iTunes recommended artist suggestions.   In theory, this should get more people coming to your site and learning about you.   This also will cut costs down for independent artists not having to send physical packages to everyone they are soliciting (labels, promoters etc.).   I just hope this does not create an Internet traffic jam with all the data flying around.
Stoli: You have been making music for over a decade. At what age did you pick up the guitar and start writing songs?
Steve: I started when I was little after finding my mother's old guitar in the garage.   After my parents realized how obsessed I was they actually bought me the other three strings it needed and I never looked back.   I have been working on writing songs since then, now they just make a little more sense.
[youtube eg_EFCBrQQg nolink]
Stoli: I love your song, "Have A Little Fun." Is that song based on a real girl and what does that song mean to you?
Steve: The song is based on real stories and also based on people I don't know.   "Have a little fun" is one of those stories about today's youth gone wild. LOL.
Stoli: Have you ever wrote a song based on a past lover, and she found out and heard the track?
Steve: Life is an adventure, we all live it and take something from each part of it that we experience.   So I will take "yes" for $200.
Stoli: Social media has become a nuisance with too many sites to manage. How do you manage that aspect of promotion and what sites work   for you?
Steve: I think Facebook is the happening one now for me.   It is another full time job to maintain them all.   But indie artists wear many hats.
Stoli: Your list of live shows you played is incredible. Any shows coming up that we should make note of?
Steve: Yes, we are doing some shows for the Relay For Life foundation.   I love doing these shows.   They help raise money for a great cause and we usually get a huge turnout.   It gives us a chance to give back.   I also have some shows in CT, NY, MA, ID, and SC coming up.   We will be posting all tour dates on our web site as soon as they are finalized.
Stoli: What is the best part of being an independent musician and not having to answer to corporate profits over artistic expression?
Steve: I love being able to make the records I want to make and tour where I want to tour.   It keeps you true to yourself and your fans, that's important to me.   I would love to eventually get label support and be able to continue to do it my way but with a company that has the juice to do it on a larger scale.   We will see how it goes.
Stoli: What's coming up for Steve Dunn and where you @ online?
Steve: We are gearing up for lots of live shows, TV, and radio appearances. I will also be doing some touring playing lead guitar for the Jerad Finck Band this year in between. I will be all over the place. The best way to see what I am up to is my website http://www.stevedunnmusic.com.
Thank you for taking the time to talk and for supporting new original music.