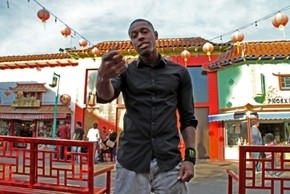 Hyro Da Hero's debut album, Birth, School, Work, Death, loads tons of rock 'n' roll attitude into explosive, engaging and enthralling rap music. The Houston-bred, Los Angeles-based MC has been praised by critics and peers alike, including Korn front-man Jonathan Davis who called the enigmatic debut 2011's "Album of the Year" in Revolver. It was also included in Kerrang! Magazine's Top 50 Albums of 2011 list, and Hyro was nominated as Best International Newcomer at the UK mag's 2011 Awards ceremony.
[youtube CE4hdJphnao nolink]
Birth, School, Work, Death was produced by the multi-platinum Ross Robinson, who has held the reigns for the recording of albums by Korn, At the Drive-In, Glassjaw, Slipknot and many more. "Ross Robinson pulled a lot out of me," says Hyro. "He pushed me to the edge, and I was able to realize everything I'd always dreamed my music would sound like with his help." The single, "Sleeping Giants," is a powerful scream for revolution with a hard-hitting video to match.