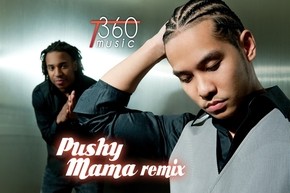 One of the main questions asked was just how did this all come about? The mastermind behind it all, known simply as the Coach talks about how the artist T360 searched him out to do an anniversary piece for his girlfriend and once completed the engineer suggested that they should connect for there was synergy, and the rest is history. T360 the artist has a strong charisma that is contagious. Elom who is a unique stylistic rapper was connected via a friend and the Coach listened to his material and was moved.
[youtube 3W6n-XFHWDM nolink]
Therefore when they were working on the T360 music break out piece and there was space for a rap he knew there could be no other person to fit the bill for he could not get Elom's fresh magnetic style out of his head. Elom saw the track as being brand new, something different with a unique format and jumped on the opportunity. The track was in his words" fresh" for he was used to free styling to typical rap beats. This was different; there was a dance side with a good concept and simply pristine! No usual cussing or negative undertones, in a word "fresh."
When asked what the term Pushy Mama meant to him, he responded that it was not a particular female issue but something that was a part of life, neither male nor female but a concept of control. The Coach created it based on the concept of wanting to do something without bashing anyone or preaching about an issue but to make fun of it.   The track calls for even those who can identify with the reality to laugh and not be put on the spot! Pushy Mama was written to illustrate that a clean piece without profanity can be created beyond the box. A lot of people feel that they have to do or be a certain way to be accepted but Pushy Mama proves that this is not true; composers just have to be a little more creative like they were back in the day.   The entire concept of Pushy Mama from its fusion of Asian and Black artists, to music to its hot video is all definitely against the grain!   The genre is house or club music with a flare of hip hop. The track has a great hook with a good feel. I can experience the journey that it takes you on from country to country as well as flowing amongst the various designers. The Coach visualized the piece cinematically in audio and musically frames this by taking the listener on an adventure with various sound effects including the airplane. The synergy between the two artists T360 and Elom also displays a comedic twist in song.
Full T360 EPKâ"¢:
http://www.sonicbids.com/T360
Demographic for Pushy Mama is not limited to the club persona for all people can relate to the concept and as   the Coach stated one guy's mother who is seventy plus thought the track was quite hot! I personally view Pushy Mama as being futuristic with the infusion of hip hop within club music in a sophisticated format. The video which focuses on high maintenance women is not today's "norm" video with booty shaking or stripper poles. According to Coach that's easy to do and that is why it is continuously repeated. His intent was to create a more sophisticated statement using real models versus people that say they are models but are also strippers. They wanted to incorporate sophisticated visuals therefore the video focuses around a cocktail party which fleshes the song out and points to the metaphoric fact that we live in a society that manufactures beauty! If you aren't sporting a certain designer or make up then you aren't beautiful. So many are programmed to believing this untruth. Pushy Mama Audio is an experience and the full video allows you a front row ticket to the artistic ride of uncovering subliminal truths!
Pushy Mama is available on itunes, amazon.com, and cd baby! T360music can be found on Twitter, Facebook and Youtube.  
By LA Virgil @ lavirgil07@yahoo.com – www.hismultimediaintl.com