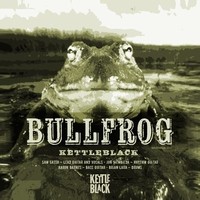 Kettleblack is back and with a vengeance. They are celebrating their latest release, "Bullfrog". I did not think it was possible to rock any harder than they did before, but I stand corrected. These guys are putting their abilities to the test and passing with flying colors and soaring guitars.
My favorite song on this CD is, "Wait for it", for the shear fact that it is rock-n-roll at its finest and ever since their last release I could not wait for the next one. These guys out do themselves every single time they step on stage or in a studio. They fearlessly lay their souls on the line. The end results are pure heartfelt emotions wrapped in a roller coaster of hard core melodies.
But their talents do not stop at rockers alone. They slip in a slower tune with, "Same Day", well, I say its slower but it is still pretty edgy. The music sets up the intensity of emotions poured into the rockin' ballad. Then there is a startling awakening with, "Wake Up", and the icing on the cake is their cover of, "Voodoo Chile".
From beginning to end this CD delivers exactly what I have grown accustomed to from this band. Excellence! If you have not become a fan yet, you are missing out. Kettleblack is not going away and only gets better and better. I feel like I know something that the rest of the world has not discovered yet, but when they do, look out. Nothing but greatness from this point forward.
By Rebecca Hosking – hoskingrebecca@gmail.com
[Rating: 4/5]