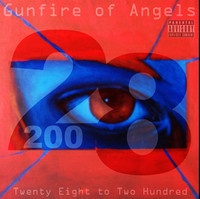 28-200 is a duo out of Denver Co. Their music is more of a feeling that enters through your ears and burrows into your soul. It is a sound that is to the point with edgy moments of attitude.
Mister L and Aimee have joined forces and have been pumping out music since 2005. Their songs come from a deeper emotional level. They have an interesting way of conveying depth through musical simplicity. Less is more and in my opinion they seem to have nailed that concept down to an art.
The title track, "Gunfire of Angels" sets up the mood for the EP. It is sarcastic with a polite grace. They say in the song that it is just sound, but it in my opinion, it is poetically alluring. Lyrically each song has a unique creative cleverness. They take words that define one thing and twist them to mean something totally different. Then they use their instrumentation to complete their artistic expression.
The sky is the limit for this duo. 28-200 is on a path of self discovery and so far they are shining above the rest. "Gunfire of Angels" is a 5 song EP that is the start of a new kind of music. They have laid some deep seeded ground work to set themselves up for a very bright future.
By Rebecca Hosking – hoskingrebecca@gmail.com
[Rating: 4/5]