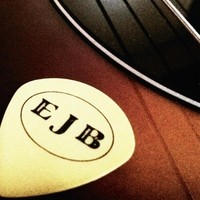 If you like music with a whole lot of feeling, then you should love Elwood James Band and their debut album.   The group has a wide array of musical influences, but what stuck out to me the most was the element of rock.   In its simplest form, rock 'n' roll plays a huge role on this EP.
Elwood James Band is: Vincent Vescio aka Poppa Vin on vocals & keys, Dennis James on vocals, acoustic & electric guitars, Danny Wagz on drums and Vincent's son Vinnie Vescio on bass.   That closeness that you receive from a family is definitely evident between these members.   Actually, the band started when Poppa Vin and Dennis James met as kids where Dennis' father Elwood had a basement that became common stomping grounds for the entire neighborhood.   When Elwood James passed away, Elwood James Band was born in honor of a man that really cared for all.   That spirit, magic and strong sense of family is what separates Elwood James Band from a lot of other bands out there.  
[youtube L2n5c36wFQw nolink]
I have to say that it is nice 'n' refreshing to hear music that is pure as can be.   From the lyrics, the sound, the style and approach, Elwood James Band has got you covered.   So we know that Elwood James has got feeling but is that it?   The answer to that question is a BIG hell no!   While listening to all five tracks on the EP, I heard catchy melodies & rhythms, solid vocal performances, fine-tuned group harmonizing, words that speak out loud and not to mention instrumentation that stands out.  
I am highly impressed with Elwood James Band and their debut release and I feel this Philly-based group still has a lot to prove.   Their music can best be described as full of life to go along with fan-friendly & meaningful songs that will appeal to many.   Havin' fun playing together is what Elwood James Band is all about and they invite everyone to be a part of the family affair phenomenon!
www.reverbnation.com/theelwoodjamesband
By Jimmy Rae (jrae@skopemag.com)
[Rating: 4/4]