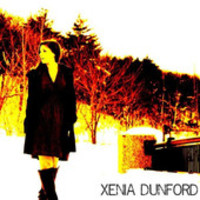 Are you ready for a   pure voice that needs to be heard?   Well then you're in luck because I have got just the right singer/songwriter for you and her name is Xenia Dunford.   The talented indie artist along with her band The Eastern Exile invite listeners near & far to find peace & comfort within the music.   Xenia Dunford & The Eastern Exile take you on a trip down some 'Lonely Streets' but the ironic twist is that those quiet streets are about to become a lot more friendly.
The five-track EP incorporates a lot of different styles & influences like a soft rock & jazz vibe on the   "The Only One" and then turns around and gives you a touch of country/Americana on "Best I've Ever Had".   I really dig the style here as the recording comes across as lightly cool and airy.   All five songs are in sync and in tune just like a flowing stream that continuously runs without missing a beat.   Xenia Dunford is the VOICE and The Eastern Exile is the SOUND that surrounds & compliments that fine voice.  
Dunford's sincere vocals are driven by a pure passion to make music that matters.   Xenia does seem to have a real charm about her vocally and she is also lyrically-sound.   She and her band have joined forces to give the listeners high-quality, buzz-worthy material from the heart.   I'd like to refer to 'Lonely Streets' as songs worth listening to because each number has real-deal substance.   I also love the fact that each track is completely different from the next, which adds a nice mix of diversity to the whole mix.   Xenia Dunford has some dynamite chops and a musical sense that can not be denied.   Xenia Dunford & The Eastern Exile prove their talents on 'Lonely Streets', which I feel should receive major recognition.   I highly recommend 'Lonely Streets' to anyone out there!
By Jimmy Rae (jrae@skopemag.com)
[Rating: 5/5]